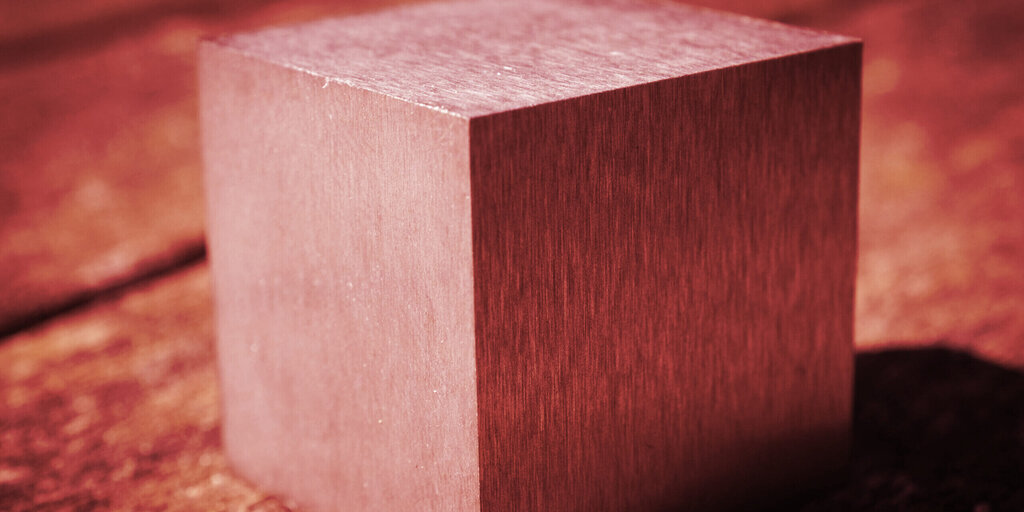 Bitcoin is often referred to as "digital gold," but the only metal anyone on Crypto Twitter is talking about today is tungsten. And not just any form of tungsten, but a cube of it.
Everyone from Bloomberg host Joe Weisenthal (aka @TheStalwart) to CoinShares CSO Meltem Demirors is opining today about tungsten, a 4-inch cube of which weighs over 40 pounds. (If that's too heavy, you can get a 1.5-inch cube that weighs just over 2 pounds.)
Blame Nic Carter. The co-founder of Coin Metrics tweeted a picture yesterday of an Amazon page for the product, showing that there were only three 4-inch tungsten cubes remaining from supplier Midwest Tungsten Service Store—despite the $2,999 price tag.
just as an FYI pic.twitter.com/EOKnvRWYuk

— nic carter (@nic__carter) October 14, 2021
"All the reviews are just like 'yep, it's heavy. does what it says on the tin,'" he remarked.
According to the product reviews, customers enjoy lifting it, smashing things with it, and using it as a paperweight. As of yet, there are no apparent blockchain applications for the metal.
It took less than 10 hours after Carter's tweet for the cubes to sell out, and only slightly longer for his Twitter followers to turn tungsten into a full-fledged meme.
Demirors, who purchased her own cube, believes tungsten shouldn't be bound by the physical world: 
i have 3 DMs about it so its coming for sure

someone will sell an NFT tungsten cube

— Meltem Demir◎rs (@Melt_Dem) October 14, 2021
But former Zcash Foundation Executive Director Josh Cincinnati thinks that the newfound attention may negatively affect the price of NFTs:
imagine billions of dollars exiting the crypto-circular jpeg economy to buy tungsten cubes

i m a g i n e

— Josh Cincinnati (@acityinohio) October 14, 2021
Weisenthal, who writes frequently and often skeptically about Bitcoin, is bullish on tungsten. He bought his own cube:
I don't get FOMO. Never have really. Not with experiences, events, NFTs; investments etc. Whatever.

But goddamn do I want a tungsten cube on my desk.

— Joe Weisenthal (@TheStalwart) October 14, 2021
But eToro US marketing exec Brad Michelson suggests that tungsten could be a fad, just like ICOs:
What's heavier?

A 1lb Tungsten cube

or

Your 2017 alt coin bags

— Brad Michelson (@BradMichelson) October 14, 2021
If you've missed out on the latest "must-have" asset, don't worry: you can get an NFT cube on OpenSea. It weighs nothing.
The views and opinions expressed by the author are for informational purposes only and do not constitute financial, investment, or other advice.
Guide & Tools