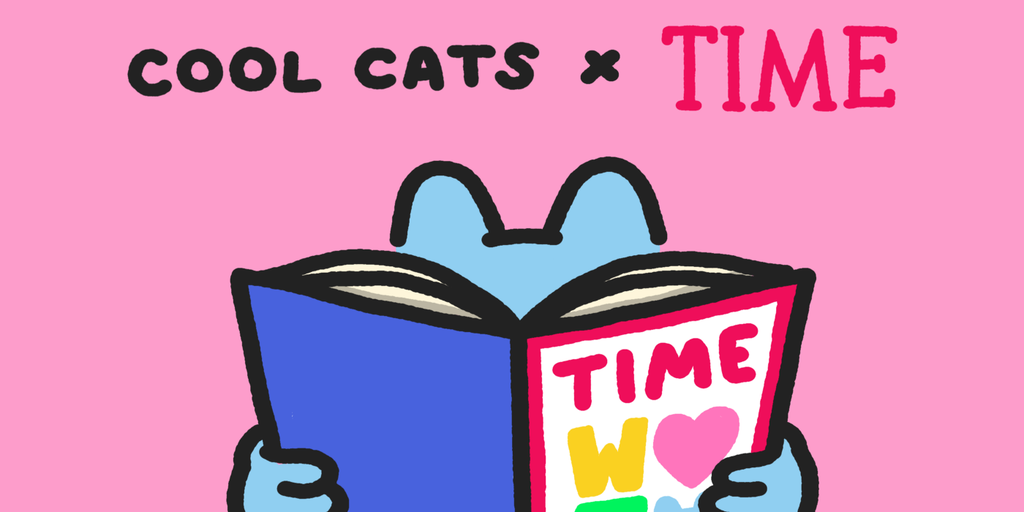 Cool Cats is one of the hottest NFT crypto collectible projects right now, as the collection of 10,000 randomly-generated cartoon cats is fueling up to millions of dollars a day in trading volume.
Believe it or not, the project is now teaming up with TIME magazine for an exclusive new set of NFTs—and memes are involved.
The Cool Cats x TIME collaboration is a new series of NFT collectibles spanning 400 total images across four different designs. Each features an adorable cat illustration similar to those from the main Cool Cats line, but now they're shown reading TIME in each image.
According to Cool Cats' announcement post, the collaboration was the idea of TIME president Keith Grossman. He tweeted today that TIME pursued the project because its "community exudes positivity and optimism" and that Cool Cats are "family friendly and connect cross-generationally." Also, echoing a common acronym within the collectors' community, he added "WLTC!" or "We like the cats!"
Top 3 Reasons for @TIME & @coolcatsnft collab:

1.) This community exudes positivity and optimism.
2.) 's are family friendly and connect cross-generationally - which is important when you have @timeforkids!
3.) WLTCs! Simple as that! https://t.co/GqIH4gI2MP#CoolCatsTIME pic.twitter.com/bDf1uh7dnE

— Keith A. Grossman (@KeithGrossman) August 13, 2021
The digital collectibles won't be sold or auctioned off directly to collectors, however. TIME and Cool Cats are instead holding a competition to see who can make the best memes related to the project, as judged by the collaborators. The creators of the eight winning memes will each receive one of the new NFT images as a prize.
Meanwhile, the remaining 392 NFTs in the collection will be raffled off to existing Cool Cats owners who also entered the meme competition. Either way, you will have to create a meme to have a chance at getting your hands on one of these Cool Cats x TIME collectibles.
It could prove to be well worth the hassle, given the rising value of the original Ethereum-based Cool Cats set. Secondary market listings of Cool Cats NFTs on OpenSea currently start at 1.5 ETH, or about $4,930.
While not as high as the surging Pudgy Penguins, let alone the in-demand CryptoPunks or Bored Ape Yacht Club NFTs, that's still an enormous uptick from the original minting price of 0.02 ETH last month—less than $50 at the time. And those aren't just asking prices. The NFTs are actually selling: According to analytics firm CryptoSlam, more than $3.5 million worth of Cool Cats have been traded over the last 24 hours alone.
An NFT works like a deed of ownership to a digital item, as verified by a blockchain. It can take nearly any form, whether it's an illustration of a cat, a video clip, a tokenized tweet, or something else entirely. The NFT market blew up earlier this year, leading to some $2.5 billion worth of transaction volume in the first half of 2021, and the market has surged again in recent weeks following an apparent lull in late spring and early summer.
This isn't TIME's first dalliance with NFT sales, either. The long-running magazine brand released four NFT magazine covers in March, generating nearly $450,000 worth of Ethereum at the time. In April, the magazine announced it would accept cryptocurrency payments for digital subscriptions. It also revealed a partnership with Grayscale Investments to create video content, and said it would hold the Bitcoin payment it received on its balance sheet rather than convert it to fiat currency.
Guide & Tools