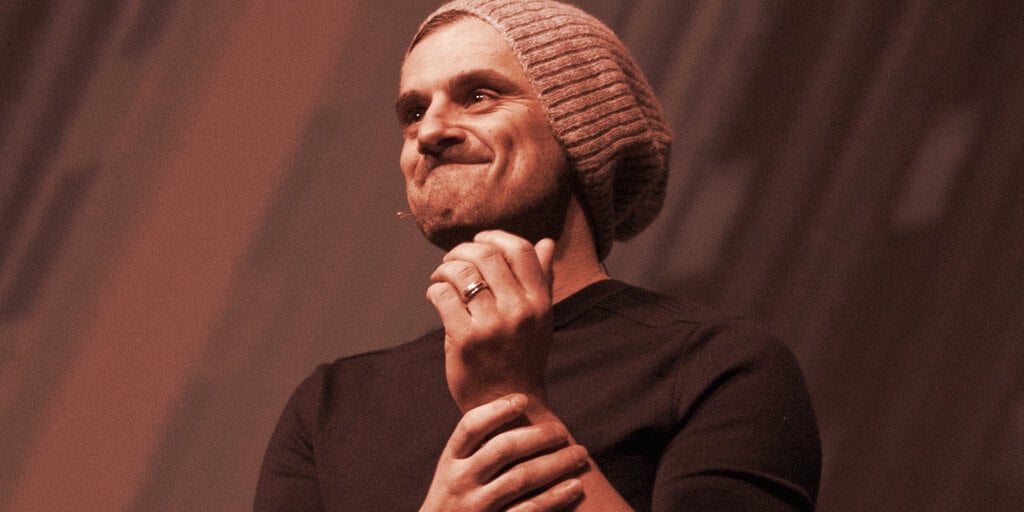 Gary Vaynerchuk—wine blogger, media mogul, consummate crypto bro—just spent 1,600 Ethereum on a CryptoPunk NFT. That's about $3.7 million.
CryptoPunks are among the oldest and most prized NFTs: blockchain-based collectibles that can be bought and sold as proof of ownership for files on the internet. The images themselves are tiny, pixelated mugshots meant to be used as avatars on social media platforms. There are only 10,000 total, and each comes with a randomized collection of traits, some rarer and more valuable than others.
Here's the transaction on Etherscan.
The buyer was gary.veefriends.eth—an ENS domain name that works as a shortcut to one of Gary's wallets—and the seller was someone with the ENS domain name "grunar.eth."
Vaynerchuk appeared to confirm the purchase in a tweet before he also confirmed it to Decrypt.
Welp

— Gary Vaynerchuk (@garyvee) July 30, 2021
Vaynerchuk is a longtime fan of all things crypto. He recently launched an NFT franchise of his own: "VeeFriends."
Speaking with Decrypt in May, Vaynerchuk said that his own success in the NFT space won't be defined by quick cash grabs or splashy investments.
"For me, success [with NFTs] is only if I'm able to execute over the next several decades to build a truly meaningful," he said. "I'm shooting for like, Scooby Doo, Smurfs, that's big big. And I really think I can."
Vaynerchuk's bid of 1600 ETH for CryptoPunk #2140 marks the fourth-highest price ever paid for a CryptoPunk. The third-highest was paid just a few hours later—a whopping 2,250 ETH ($5.4 million) for CryptoPunk #5217.
Punk 5217 bought for 2,250 ETH ($5,446,822.63 USD) by 0x8f7cee from 0xe83c75. https://t.co/JSjHEuaKR4 #cryptopunks #ethereum pic.twitter.com/di8yHKLMJs

— CryptoPunks Bot (@cryptopunksbot) July 30, 2021
When asked to respond to any critics who will say that he overpaid for pixels, Vaynerchuk told Decrypt: "I have a lot of empathy for people's curiosity or cynicism or debate, but I have incredible confidence in this asset. And I'm sure people said the same about a Jackson Pollock painting at some point."
Guide & Tools