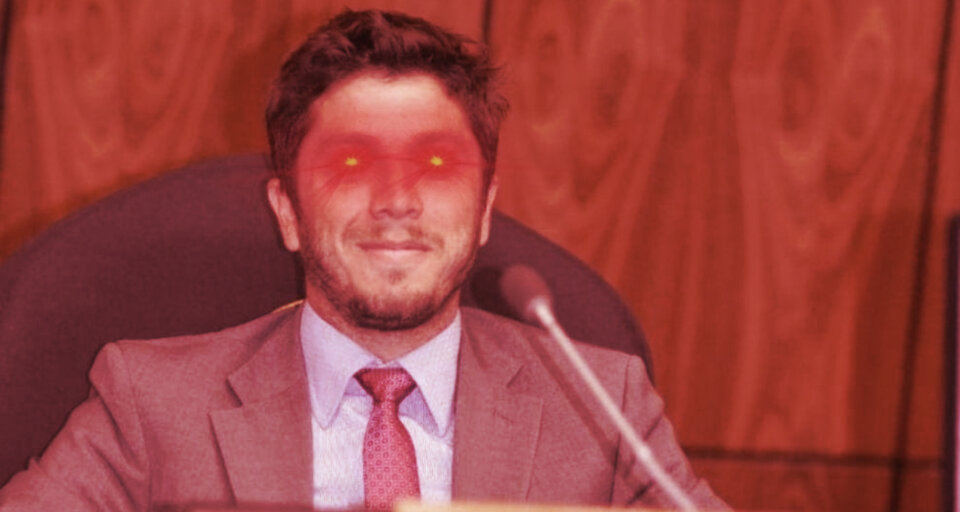 Nayib Bukele's political moves in El Salvador earned the president the support of a large part of the cryptocurrency industry, as the Central American country opened its doors to Bitcoin as legal tender.
The news, of course, piqued the interest of several politicians around the world, causing a wave of pro-Bitcoin intentions across Latin America. One of those politicians who quickly jumped on the wave was Carlos Rejala, a Paraguayan congressman from the Hagamos Party. 
In early June, a series of tweets from Rejala positioned him among observers as the next politician to push for adopting Bitcoin as legal tender—Paraguay could become the "next El Salvador," eager Bitcoiners speculated.
Como ya lo decía hace un buen tiempo, nuestro país necesita avanzar de la mano de la nueva generación.
Llegó el momento, nuestro momento.
Esta semana empezamos con un proyecto importante para innovar a Paraguay frente al mundo!

El verdadero to the moon #btc & #paypal pic.twitter.com/ZMRJgAIxgO

— Carlitos Rejala (@carlitosrejala) June 7, 2021
Rejala later laid out his plans more concretely, promising to introduce legislation with regard to Bitcoin by mid-July. But the lawmaker has since clarified in an interview with Reuters that he has no intention of attempting to pass anything close to a "Bitcoin legal tender" law. It would be politically "impossible" to do so, he said.
Se viene la presentación del proyecto el 14 de Julio. #btchttps://t.co/l8GZ7UaYK9

— Carlitos Rejala (@carlitosrejala) June 19, 2021
But that isn't stopping Rejala from attempting to make Paraguay a more "Bitcoin friendly" nation, and draft legislation to introduce pro-crypto regulation in the country is already well underway. In fact, the CEO of Bitcoin.com.py says he is helping with its development, presumably with the assistance of other active members of the Paraguayan crypto community
But that might be as far as even this endeavour ever gets.
Paraguay a Bitcoin nation? Slow down
Paraguay's diplomatic, economic, and legal reality differs significantly from that of other countries such as El Salvador or Venezuela, and conditions are currently far from ideal to change the country's stance on Bitcoin and other cryptocurrencies.
"There is something to understand when talking about cryptocurrencies in Paraguay: there is a [legal] gray area, since they are not regulated," Joaquin Fiorio, founder of CriptoPy and CCO of Arapy Network, Paraguay's first blockchain network, told Decrypt. 
Another critical difference, according to Fiorio, is that Paraguay has "one of the most stable fiat currencies in the region and inflation is very low." In other words, it has no need for Bitcoin in the same way that El Salvador might. Fiorio says that the country's banks are very conservative and have no interest in fixing what is not broken.
Moreover, unlike El Salvador or Venezuela, where the adoption of cryptocurrencies was arguably a necessity from a geopolitical standpoint, Paraguay is in a comfortable position on the global chessboard. There is no danger of unilateral sanctions that would affect its economy, and its conservative-leaning president does not represent a problem for the U.S. and its plans for regional influence.
And all of this says nothing of the still very early and limited influence of Carlos Rejala, the young deputy leading the charge.
His Hagamos Party has only two seats out of 80 within the lower house of the legislature. Getting the votes needed to pass this kind of legislation is going to be virtually impossible. "Rejala does not have the power to get his bill passed," Fiorio said.
Rejala did not respond to Decrypt's requests for comment, but the lawmaker told Reuters that the point of his draft bill is to make it so that "Paraguayans or foreigners can operate with these assets legally."
Does Bitcoin need to be legalized in Paraguay?
It's unclear what, exactly, Rejala intends to "legalize," since there is currently nothing in Paraguayan law that explicitly makes purchases and sales of and with cryptocurrencies a crime.
According to Luis Benitez, an open-source software activist in Paraguay who was among those invited to a meeting by Rejala just days ago to discuss the bill, the legislation will likely aim to make it easier for banks and financial institutions to offer crypto services in the country. This could mean providing custody for crypto assets, for example.
Querido Lucho B. @angatupyrytau que bueno que te manifiestes, así ya te invito a participar de la mesa de trabajo tu opinión cómo la de todos será importante para colaborar en el proyecto. No es una audiencia pública sino un grupo multidisciplinario de los sectores involucrados. https://t.co/c7d1e09wcC

— Carlitos Rejala (@carlitosrejala) June 26, 2021
Benitez, who's been active in the crypto industry since 2010, told Decrypt that he reviewed Rejala's original draft of the bill at the meeting, which has yet to be introduced or made public. The original draft, said Benitez, has many flaws that could make it difficult to approve.
"This draft seems to me one of the most unfortunate documents I have seen in matters of technology in the last 10 years." Benitez said. "It is not even clear on the concepts of what a wallet is, and other important issues; it proposes crypto taxes and [even] a fund against losses."
According to Benitez, that first draft of the bill has already been scrapped and an updated version based on feedback from the meeting is in the works.
Hope and Bitcoin
There is, however, some glimmer of hope for the Bitcoin faithful in Paraguay. Trading activity in the country has exploded as of late, and while not on par with Bitcoin volume in places like Venezuela, the peer-to-peer trading scene is much more dynamic in the country since BTC broke $20,000. Fiorio claims there is also increased activity from cryptocurrency communities within the country, such as Bitcoin Paraguay, Hashpy, and Team Mineros Sarambi.
Hello Waiting for all of you in Paraguay #Bitcoin https://t.co/F6ijw94TL7

— Carlitos Rejala (@carlitosrejala) June 19, 2021
Paraguay also has cheap energy, relatively low taxes, and very little regulation over the crypto sector at present. As such, it's not a bad place to look if you're a recently exiled Bitcoin miner looking for a new place to set up shop.
On this, Rejala and Fiorio agree.
Guide & Tools