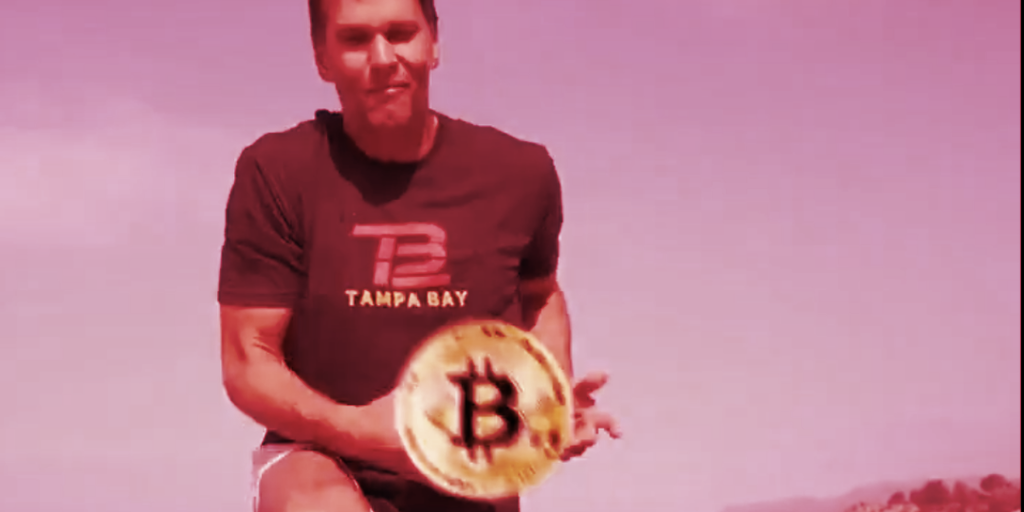 So why exactly does Tom Brady, seven-time Super Bowl-winning quarterback, keep posting about crypto on Twitter? Funny you should ask: He answered that question, and a few others, during a Q&A on TwitterSpaces today that was mostly intended to promote his new role as a brand ambassador for FTX.
"I want to be a pioneer in this field," Brady told FTX founder and CEO Sam Bankman-Fried in a half-hour long conversation.
Brady discussed his recent foray into blockchain and why he decided to work with FTX, a rapidly growing crypto exchange that has uniquely adopted a charitable mission. The exchange has committed to donating 1% of all "net fees" to charity and has raised $10 million thus far.
Brady said that crypto aside,  it was FTX's charitable mission that really attracted him to the company: "I got a call about a partnership," he recalled. The call was from "a guy I work with who has a lot of great knowledge about this space. He said, I really think this would be something you would be interested in." Brady said he was intrigued by the pitch and started digging into the company, which led to an investment and his current role.
Chatting with @SBF_Alameda tonight at 7 on @Twitter Spaces. I'll be answering the "Why does Tom Brady keep posting about crypto" questions…or atleast will try to! https://t.co/h29JTs4VU1

— Tom Brady (@TomBrady) June 29, 2021
"I'm really excited about the endless possibilities that we have to create things together," Brady told Bankman-Fried. "The idea of giving back to our communities, to our planet— educating people about what crypto is—that's what's exciting for me." 
Brady, 43, said that he and his wife, the supermodel Gisele Bundchen would be working as brand ambassadors for FTX, on various initiatives. He mentioned that she will work primarily on the charitable aspect of the partnership and help decide which charities to fund with the money the exchange continues to raise.
"Our belief is in what you're doing, and the great team that you've assembled over a period of time, gives us a lot of confidence that we're partnering with the right people," Brady said.
After those niceties were exchanged, Bankman-Friend asked Brady what he found interesting about NFTS, the digital art craze. 
Brady said he believed the technology would enable him and his wife to interact with their fans and "communicate with them directly—not through social media platforms, but in authentic ways." NFTs, he added, would allow fans to  "have unique experiences and unique opportunities to collect, to own, to trade."
In April, Brady launched the NFT platform called Autograph with several of the world's biggest tech and sports companies, including Apple, Draftkings, and Spotify.
The football player said that increasingly, crypto conversations are finding their way into the locker room. 
"In our quarterback room, for the last ten months, crypto has been the main conversation on our breaks between studying football plays," said the champ, who has been into crypto for a few years.
The GOAT shrugged off the recent swoon in the cryptocurrency markets. "I've been a believer in crypto for quite a while. There is a volatile aspect to it but that happens with real deep change and disruption in markets," Brady said. 
Alright the laser eyes didn't work. Anyone have any ideas? https://t.co/43WyShRxr2

— Tom Brady (@TomBrady) June 28, 2021
Guide & Tools