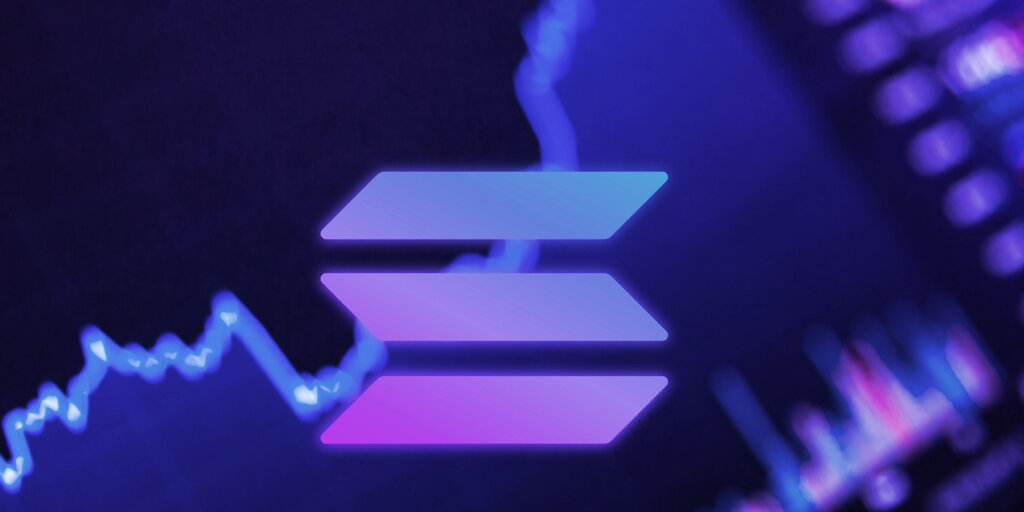 Swiss-based company Digital Assets AG has launched tokenized stocks that can be transferred to any entity on the Solana blockchain.
Popular stocks that will be immediately available for trading include Facebook, Google, Netflix, Nvidia, PayPal, Square, and Tesla.
Stock tokenization lets you buy company shares as crypto tokens, which represent the value of the underlying asset, be it Apple, MicroStrategy, or Coinbase shares. 
Brandon Williams, corporate development lead at Digital Assets AG, told Decrypt that these transferable stock tokens will "bridge the traditional finance and decentralized finance (DeFi)."
That's because up until now tokenized stocks could only be traded on a singular entity like a cryptocurrency exchange, such as Binance or Bittrex, or a private blockchain. Users could open or close positions, but they wouldn't be able to withdraw tokenized stocks, send them to an external party, or transfer across chains. 
But the transferable tokenized stocks launched on Solana will allow centralized and decentralized exchanges built on that public blockchain to add tokenized stock trading to their platforms.
Hong Kong-listed cryptocurrency exchange FTX is the only exchange where customers can buy these transferable tokenized stocks—at least for now. FTX CEO Sam Bankman-Fried is also the main backer of Solana.
Why buy free-floating tokenized stocks on FTX, a cryptocurrency exchange, when you can buy stocks on trading apps like Robinhood?
Williams explained that tokenized stocks have a few advantages over traditional alternatives. FTX Traders will be able to withdraw and subsequently deposit their stock tokens to their own crypto wallets—software programs that help store cryptocurrencies privately rather than on cryptocurrency exchanges. From there, they can move stock tokens to DeFi and trade them 24/7 on Solana-built decentralized exchanges like Serum.
Traders can also use those tokens to create their own fund-like smart contracts on DeFi that reallocate the positions automatically—that's useful for decentralized autonomous organizations (DAOs), which are collectives on DeFi with a shared investment portfolio.
Williams said that the company has obtained the necessary green light from financial authorities to launch in Switzerland and the European Economic Area—EU countries plus Iceland, Liechtenstein, Norway, and Croatia— but customers in other countries such as the United States will have to wait until the regulatory complexity is tackled.
The views and opinions expressed by the author are for informational purposes only and do not constitute financial, investment, or other advice.
Guide & Tools