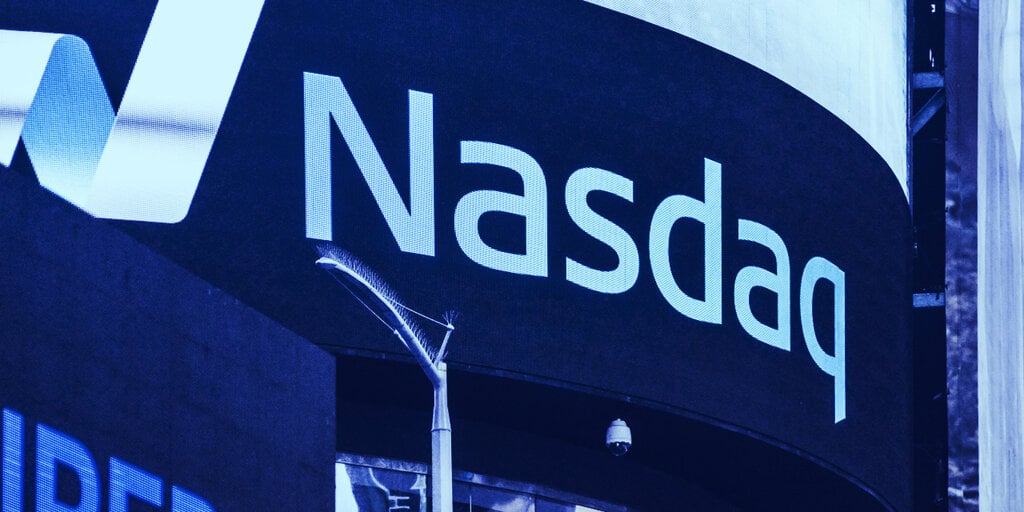 The Canadian Bitcoin mining company Bitfarms began trading on the Nasdaq yesterday, with shares trading under the ticker BITF. 
BTIF opened at $4.04 per share and hit highs of $4.11 before closing the day at $3.96.
Founded in 2017, Birfarms uses "more than 99%" hydroelectric renewable electricity to mine Bitcoin on five facilities in Québec. The company is already listed on Canada's TSX Venture Exchange, trading for $4.25 per share. It will retain its dual listing.
Despite the bearish market, Bitfarms CEO Emiliano Grodzki told Decrypt that the mining business is more resilient to downward market swings than non-mining companies with large amounts of Bitcoin on their balance sheets. 
"If Bitcoin went down to $16,000, we'd still continue to make a huge amount of money," Grodzki said. 
Institutions that bought Bitcoin at higher prices are now down on that investment, he explained, but Nasdaq investors should understand that Bitcoin exposure is a different play for miners. 
Bitfarms, like all miners, obtains Bitcoin at a fraction of the cost regardless of market conditions. This is because the company is earning rather than buying, which means their costs for acquiring Bitcoin are relatively fixed. Rent, employee salaries, mining machines, and electricity don't fluctuate nearly as much as the price of cryptocurrencies. 
In the first quarter of the year, Bitfarms acquired one Bitcoin at the cost of $8,400—that's around the time institutions bought one Bitcoin for around $50,000 at spot-market price, Grodzki said. Bitfarms continues to add approximately eight Bitcoin a day to its inventory.
Bitfarms is the second Canadian mining company to go public on the Nasdaq, after Alberta-based Hut 8 last week. Hive, another Canadian mining company, announced on June 18 that it received approval to list shares on Nasdaq.
Unlike Hut 8, which now also mines Ethereum, Bitfarms has no plans to diversify its mining operations. 
"I honestly don't understand why you'd want to diversify away from Bitcoin mining when it's one of the most profitable periods we've ever had," Ben Gagnon, chief mining officer, told Decrypt. "It's mostly a strange strategy to employ during a growth phase. That's the sort of thing that you apply at the end of the growth phase, not at the beginning."
The Nasdaq's appeal for Bitfarms, Canadian miners
There are only four variables by which to judge a publicly-traded miner, explained Gagnon: hashrate and the daily Bitcoin production rate, cost to produce Bitcoin, amount of Bitcoin on the balance sheet, and amount of hashrate coming in the future.
Solely in terms of "market cap-to-hash rate," Bitfarms considers itself to be one of the most undervalued publicly-traded mining companies in North America, according to a corporate presentation dated June 2021.
The chart below indicates that though Bitfarms commands roughly 4.5 times the hashrate of Hive, it is less than a quarter of the market capitalization of the latter. 
American mining company Riot, which has a lower hashrate than Bitfarms, is currently trading for $31.57 on the Nasdaq—a far cry from Bitfarms' $4.85 per share on Canada's TSX Venture Exchange.
This analysis suggests that mining companies are better valued in the U.S. and therefore trade at a premium compared to Canada. It's not clear why there would be a discrepancy between U.S. and Canadian financial markets, Gagnon said, but it could be due to tax or jurisdictional reasons, or perhaps just a sign of an immature market. "But there's a very clear arbitrage opportunity between the two markets," he said.
The thinking then goes that Bitfarms will be valued much better on New York's Wall Street than Toronto's Bay Street. 
A better valuation would also mean better access to capital markets if Bitfarms could achieve that.
Cheaper capital for the company will come in handy too, as Bitfarms has plans to add a sixth facility in Québec, one in Argentina, and expand further in Latin America over the following years. 
CEO Grodzki thinks Latin America could be the next China for Bitcoin mining. But he admits, as an Argentinian, he could be a bit partial.
Guide & Tools