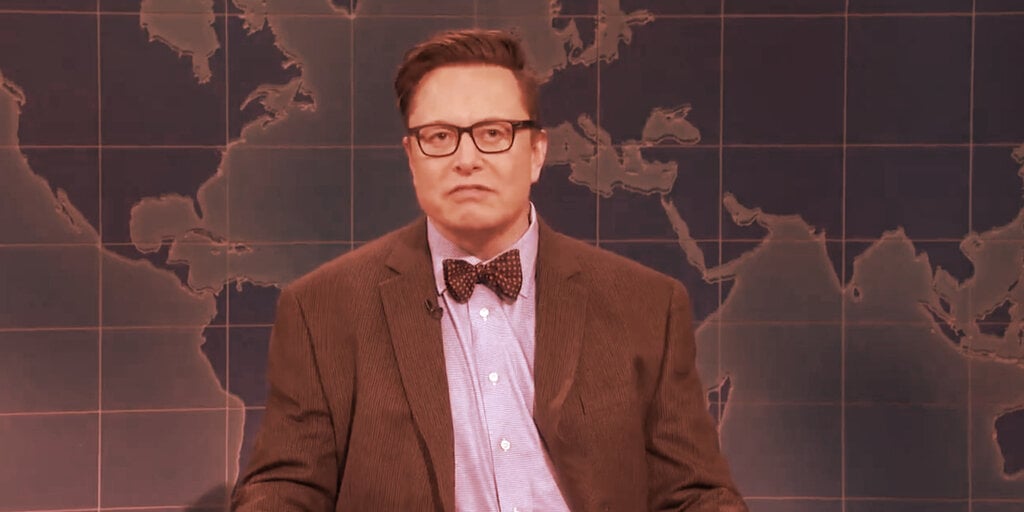 Cybercrooks swindled nearly $300,000 in cryptocurrency from would-be investors over the weekend by using the hype around Elon Musk's Saturday Night Live appearance to scam people, according to data released today. 
Elon Musk appeared on Saturday Night Live at the weekend—and briefly promoted his favorite cryptocurrency, Dogecoin. The meme coin dipped in value following his appearance but it was the perfect opportunity for scammers to use the eccentric billionaire as a front for a con. 
Scammers set up at least 20 Saturday Night Live and Elon Musk Twitter accounts and asked people to send their Bitcoin, Ethereum or Dogecoin to dodgy addresses, MalwareHunterTeam, a website that tracks malware activity online, wrote in a Monday tweet.
At the time of writing, the criminal addresses had received $191,293 in Bitcoin and Ethereum, and nearly $90k in Dogecoin.
The scammers used at least around 20 verified accounts in this SNL campaign to spread the scam sites & made at least some 100k $ worth BTC, ETH & Doge. If the prices will go up in the next months as experts says & they not cash out until then, they made an easy ~1kk$ in 2 days...

— MalwareHunterTeam (@malwrhunterteam) May 10, 2021
The con artists claimed that by sending the crypto to a listed address, more crypto would be sent back in return. This trick is nothing new and has plagued social media for years.
"This type of scamming is going for long time, people lost millions (if we count with the prices right now, tens of millions) of $ in coins and there is still no signs of real care about this from Twitter," MalwareHunterTeam said, referring to scams from years back. 
By using verified accounts that copy the profiles of Elon Musk or Saturday Night Live, people fall easily for such scams, MalwareHunterTeam wrote in a different tweet.
Another verified account is being used to spread SNL / Musk themed scam: https://t.co/ZFCwVJ6IPR
Tweeting scam started less than 20 minutes ago from that account...@Spam404 pic.twitter.com/rBshl4pOX6

— MalwareHunterTeam (@malwrhunterteam) May 8, 2021
Because the profiles look real and sometimes have the blue Twitter verification tick, people are all the more susceptible to thinking the "giveaways" are genuine.
Last July, a more sophisticated crypto Twitter scam made headlines. The high-profile accounts of a number of celebrities—including Elon Musk, Joe Biden and Kim Kardashian—were actually hacked and used by scammers to promote a fake Bitcoin giveaway scheme. At least $120,000 was sent in Bitcoin donations to a fraudulent address.
The conman behind the hack, 17-year-old Graham Ivan Clark, was sentenced to three years in prison and three years of probation in March after pleading guilty to financial fraud charges.
Fraudsters have long used phoney celebrity endorsements to trick people into sending them their crypto. Elon Musk—a Twitter loudmouth and world's richest man—is frequently used as a face for scams. Last year, a Bitcoin account that looked as if it was owned by Elon Musk (because it had his name in the address) received $2 million-worth of Bitcoin in two months. 
And more recently, in March, a fake website pretending to be the tech entrepreneur got sent $243,000 in the world's biggest crypto. 
The UK's Financial Conduct Authority has repeatedly warned that it's common for criminals to use fake celebrity endorsements on social media—often accompanied with images of expensive goods—to set traps for would-be investors.
Guide & Tools