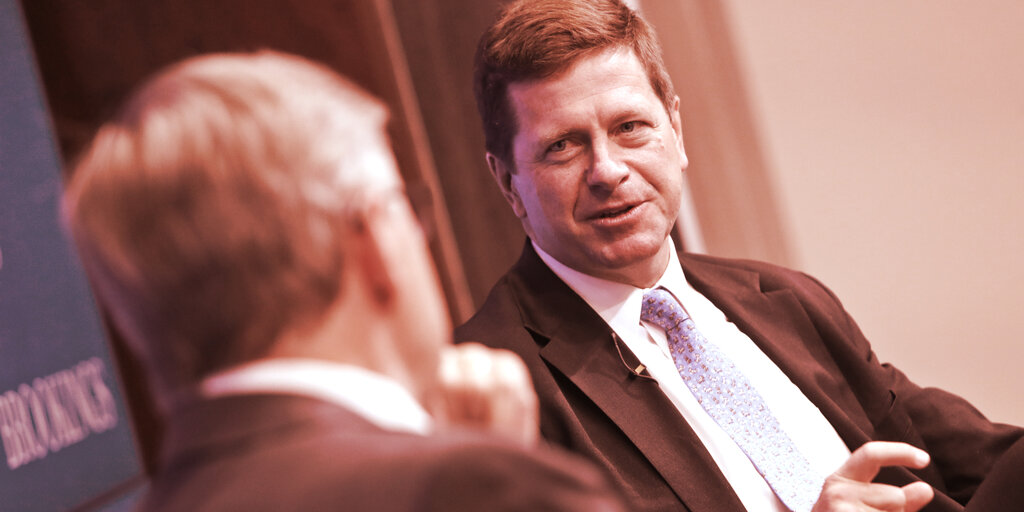 Jay Clayton, ex-chairman of the US Securities and Exchange Commission (SEC) and the man who repeatedly said the US market didn't need a cryptocurrency exchange-traded fund (ETF), is now helping a firm with its own Bitcoin ETF application. 
What a difference a year makes.
Clayton, who previously said that the Bitcoin market was prone to market manipulation and therefore shouldn't have an ETF on the US stock exchange, resigned from the SEC last year to take a position as crypto advisor to digital hedge fund, One River Asset Management. 
And One River today filed an application to the SEC for a carbon-neutral Bitcoin ETF. It is the latest high-profile company to do so (the SEC is currently reviewing eight applications) and the market is, according to analysts, hungry for such a product. 
Only two poss takeaways here: Jay Clayton thinks a bitcoin ETF should be approved now or he'll do anything for money. https://t.co/iGJUy3tcby

— Eric Balchunas (@EricBalchunas) May 24, 2021
ETFs are popular investment products that allow people to buy stocks that represent an underlying asset, like gold or real estate. A Bitcoin ETF allows investors to invest in Bitcoin—or other cryptocurrencies, like Ethereum—without having to own the asset themselves. Instead, investors buy shares in the fund, just like stocks, that track the crypto's price. 
The US market doesn't have a Bitcoin ETF yet because the SEC, under Clayton's watch, has blocked every application to date, citing market manipulation, a lack of transparency in crypto markets, and potential lack of liquidity.
But Bitcoin and Ethereum ETFs have been a roaring success in Canada, which now has eight in the country. 
One River's application says it wants to launch a carbon-neutral Bitcoin ETF. The idea, according to the application, is that the ETF would incorporate the purchase of carbon credits to minimize the product's carbon footprint. 
"The Trust intends to offset the carbon footprint associated with Bitcoin by purchasing and retiring carbon credits necessary to account for the estimated carbon emissions associated with the bitcoins held by the Trust," the filing says. 
One River's application comes at a time when the debate surrounding Bitcoin's energy consumption heats up: Tesla CEO and Bitcoin investor Elon Musk last week sent markets into freefall when he slammed the currency's environmental impact. 
It now looks like One River wants to win over potential investors worried about the coin's carbon footprint with its SEC application. 
And with an insider like Clayton behind the firm, it might stand a better chance than most at coming out winning.
The views and opinions expressed by the author are for informational purposes only and do not constitute financial, investment, or other advice.
Guide & Tools