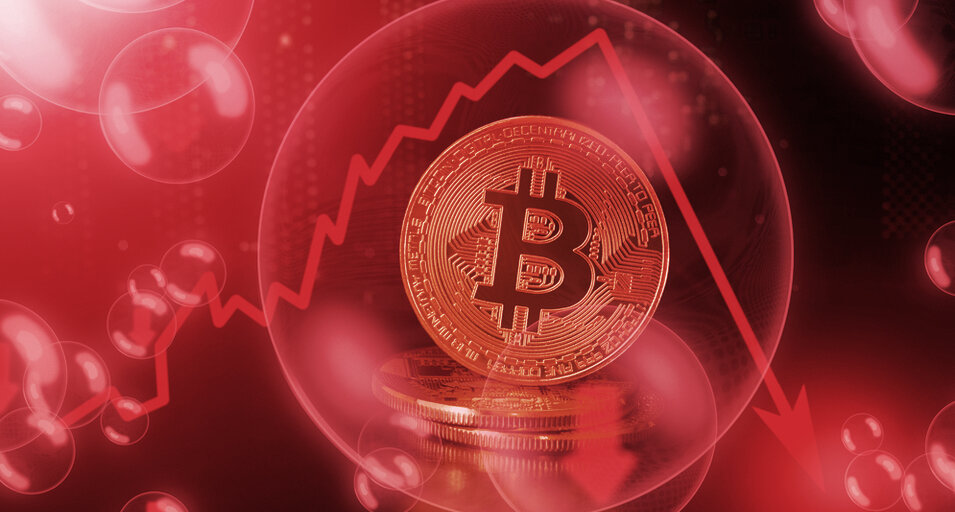 Bitcoin critics have spent a lot of energy arguing that the cryptocurrency isn't a hedge against traditional markets—it waxes and wanes along with them. But several companies are now so exposed to Bitcoin that a crash noticeably impacts financial markets.
The world's favorite cryptocurrency fell from an all-time high of $63,500 in the middle of last month to a low of $33,888 this Wednesday. Today, Bitcoin trades for $34,991, about 9% less than yesterday. As Bitcoin crashed, so did shares in crypto-exposed tech companies.
Stocks in electric car company Tesla sank to a price of $580 on Friday—an overnight dip of about 6%. Tesla, run by Elon Musk, exchanged $1.5 billion for Bitcoin in January.
The share price of cloud computing firm MicroStrategy tumbled 22% to $450. MicroStrategy, run by Bitcoin ultra-bull Michael Saylor, owns a crypto treasury of around $111,000 Bitcoin (now worth about $3.8 billion) and pays its board of directors in Bitcoin. 
So why the price keeps going down then? #

— Radoslav Dimitrov (@RTDimitrov) May 19, 2021
Shares of popular crypto exchange Coinbase, which listed on the Nasdaq last month, dipped by 9% on Friday. Coinbase stock is worth $242—43% less than its brief all-time high of $430 on April 28.
Crypto-friendly payments company Square closed 5% lower on Friday to a price of $200. The company, run by Twitter CEO Jack Dorsey, has spent $220 million on Bitcoin so far, and has avidly defended Bitcoin against criticism of the environmental impact of Bitcoin mining operations. 
It's not just crypto and crypto-related companies that have been at the mercy of Bitcoin's pullback. As reported by the Financial Times, analysts at Dutch bank Rabobank found Bitcoin's crash has hurt futures prices on the S&P 500, as well as the price of oil.
Analysts Richard McGuire and Lyn Graham-Taylor said in a newsletter on Thursday: "The catalyst for these moves appears to have been a sudden rout in bitcoin."
"It seems hard to conceive of how there can be a direct link between bitcoin's gyrations and movements on the part of the global financial market," said the pair. But "here we are. Even as august an organ as the Rabo Rates Daily has finally been forced to put cryptocurrencies front and centre."
The cryptocurrency market currently has a market capitalization of about $1.46 trillion. At a market cap of about $655 billion, Bitcoin, makes up for about 45% of that—and exerts a huge influence over the rest of the market. 
Bitcoin has not had a good week. On Tuesday, three Chinese payments firms issued a joint statement backing a crypto ban that the country's central bank had recommended in 2017. Overnight, Bitcoin sank from a price of $45,472 to a low the next day of $33,888. 
The bad news didn't stop there. On Friday, Bitcoin crashed a further 12% when China's financial committee announced that it will closely monitor Bitcoin mining operations.
How far Bitcoin has come in its short existence. The coin, created in 2008 as an escape from the traditional financial system, which still widely considers it a scourge, is now indissoluble from regular markets.
The views and opinions expressed by the author are for informational purposes only and do not constitute financial, investment, or other advice.
Guide & Tools