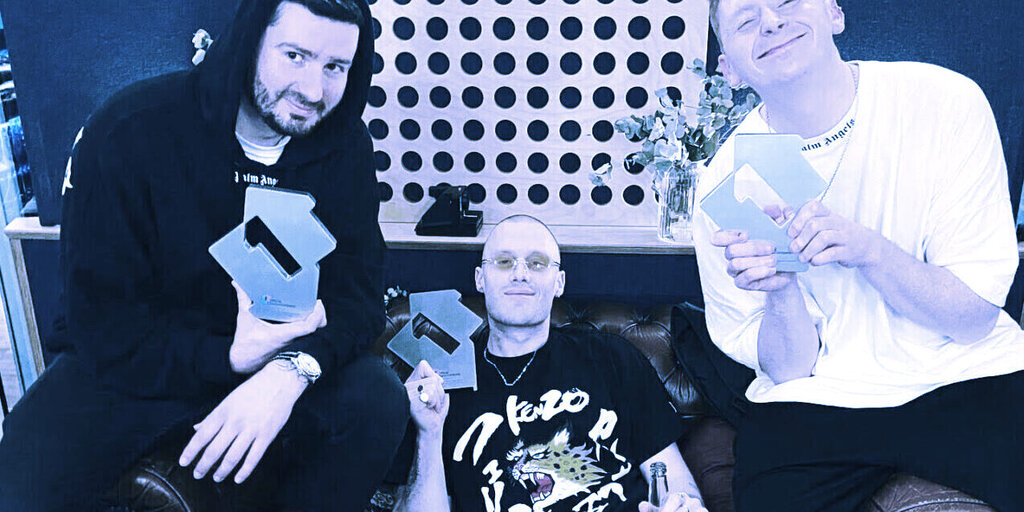 The English musicians who made a killing by remixing The Wellerman (Sea Shanty) into a chart-topper are selling 1,400 NFTs to permanently etch their success into the Ethereum blockchain.
"The success of The Wellerman remix has been a life-changing and insane transition that hasn't been grounding," one of the musicians, Tom Hollings, told Decrypt, "but NFTs could help us visually process it all."
The Wellerman, an old whaling song, went viral last December after Scottish mailman Nathan Evans posted a rendition of the song on TikTok. A month later, three UK musicians, 220 KID and duo Billen Ted (of which Hollings forms one half) published their remix of the song, amassing 120 million Spotify streams and 1.5 million global sales.
After a music video last month, NFTs are 220 KID and Billen Ted's next venture. They are selling 1,400 tokens to commemorate the success of their remix in several European countries. The NFTs link to a new 14-second dance track and a picture of a whaling ship, under which is scrawled: "[Country Name] Number One."
Evans won't get any cut of the NFT sales because he already tokenized the song last month with the digital artist Jonathan Monaghan. "[Evans is] an original, and we've got our own remix version," Hollings told Decrypt. It's like "different parties," he said.
220 KID has been "obsessed" with a bunch of crypto-related Telegram and Discord channels, he said. "I have always kind of hated the normal finance industry, and crypto seems more of a friendly community," he said. "Everyone's so nice!" He has invested in a few tokens but he isn't relentlessly "shilling" them—except to Hollings.
"As an artist living alone, I need any way I can create something and connect with people around the world," he said. NFTs, or crypto in general, offers a new crowd "with a lot of interesting buzz," 220 KID told Decrypt.
A mutual friend of theirs helped them tokenize and set a price that seemed fair, but the "ETH price is constantly moving, and so recently we were like, oh wow it's gone up a lot?," 220 KID said. So far they have sold 3 NFTs for 0.2 ETH each, today worth $450.
Some of the proceeds from sales will fund 220 KID's scholarships for high-achievers from minority and ethnic backgrounds at Exeter University, and some will go toward the Royal National Lifeboat Institution (RNLI), a charity. RNLI is close to Tom Hollings's heart; he grew up in the English seaside county of Cornwall. And without boats, you wouldn't have The Wellerman.
Guide & Tools