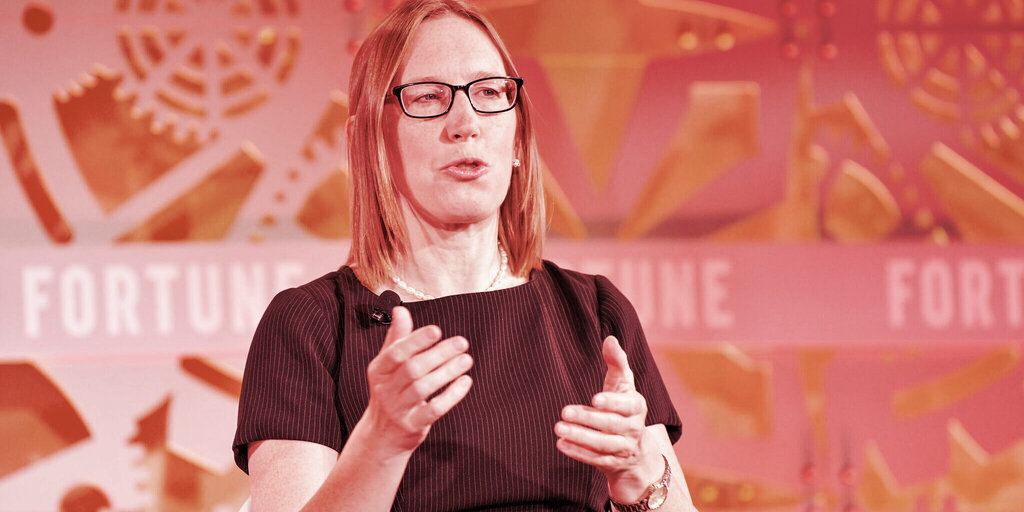 A major problem facing blockchain developers is whether their token offering will, unintentionally or otherwise, run afoul of US securities laws.
Securities and Exchange Commission (SEC) commissioner Hester Peirce has been fine-tuning a solution that would give them more leeway. Peirce today posted her Safe Harbor 2.0 proposal, an update to a plan she first presented in February 2020.
Today's document adds reporting requirements, an exit report, and outside counsel.
Safe harbor 2.0 is up. Thanks for all the comments on version 1. Looking forward to your feedback on this version: https://t.co/aRYPKAjutQ

— Hester Peirce (@HesterPeirce) April 13, 2021
The gist of her solution remains the same, however. It assumes that tokens that look like securities at the start may evolve into something else. This could apply to projects that rely on a core team to get started but then gradually decentralize control over the network.
In Peirce's proposal, teams are given three years to determine whether the token they're using is a security, and therefore represents an investment contract, or something else entirely. That allows them to trade the token in an effort to boost liquidity and make it more broadly usable—just as they might trade other securities.
As Coin Center's Jerry Brito said last year, it gives teams "time to build a functional, decentralized network and grow participation in it to the point that the network is not reliant on their continued efforts."
After taking into account feedback from crypto users, lawyers, and the general public, Peirce made three general changes.
First, to make sure investors are adequately protected (one of the SEC's core duties), she's added a requirement for semi-annual updates to the agency. Projects must also have a functioning block explorer so the public can transparently view transactions.
Second, Peirce clarified what happens at the end of the three-year period by adding an exit report. An outside counsel will review to determine whether the project is sufficiently decentralized or remains a security. If the latter, it must be registered as as such.
Related to that, she's fleshed out the areas the exit report must address. One key part is determining whether the team that created the token has enough power to alter the token price, or whether it has inside information that could affect the public's view of the token.
The updated proposal should reach the desk of Peirce's fellow commissioners, especially if Biden nominee's for SEC chair, blockchain expert Gary Gensler, is confirmed as expected.
"Now, as a new Chairman is coming into the SEC with a new agenda, is the perfect time for the Commission to consider afresh how our rules can be modified to accommodate this new technology in a responsible manner," Peirce wrote.
Guide & Tools