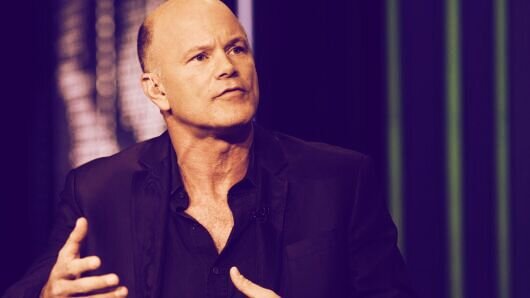 Cryptocurrency investment firm Galaxy Digital has filed for a Bitcoin exchange-traded fund (ETF)—the eighth company hoping for approval from the Securities and Exchange Commission (SEC). 
The application, filed today, is asking the SEC for an ETF to run in the NYSE Arca, an exchange on which both stocks and options are traded.
An ETF allows investors to buy and sell shares that represent the value of an underlying asset continually throughout the day. A Bitcoin ETF, then, would allow investors to buy shares that represent the digital asset. In other words, it's a way to bet on the price of Bitcoin without the need to buy and store the cryptocurrency itself.
A Bitcoin ETF doesn't exist in the US yet but seven other companies are awaiting approval from the SEC. 
"The Sponsor [Galaxy Digital] believes that the Trust will provide a cost-efficient way for Shareholders to implement strategic and tactical asset allocation strategies that use bitcoin by investing in the Shares rather than purchasing, holding and trading bitcoin directly," the application reads. 
Galaxy is a major New York-based crypto investment firm headed-up by billionaire Bitcoin bull, Mike Novogratz. It manages over $400 million in assets.
Along with Galaxy Digital, Anthony Scaramucci's SkyBridge Capital, the New York Digital Investment Group (NYDIG), and ETF provider VanEck are some of the other companies that have applied for the product.
But the SEC has repeatedly rejected applications for a Bitcoin ETF in the US, citing concerns over manipulation of the market.
Bitcoin ETFs do exist elsewhere, though. The world's first Bitcoin ETF got approval in Bermuda last year. 
And in Canada, the products have been very popular. Right now, there are three Bitcoin ETFs trading there, which hold a total of 16,600 Bitcoin ($992 million) between them. 
When the first one, Purpose Bitcoin ETF, launched (the first Bitcoin ETF in North America), it traded $80 million in its first hour—more than many ETFs do in an entire week. 
The views and opinions expressed by the author are for informational purposes only and do not constitute financial, investment, or other advice.
Guide & Tools