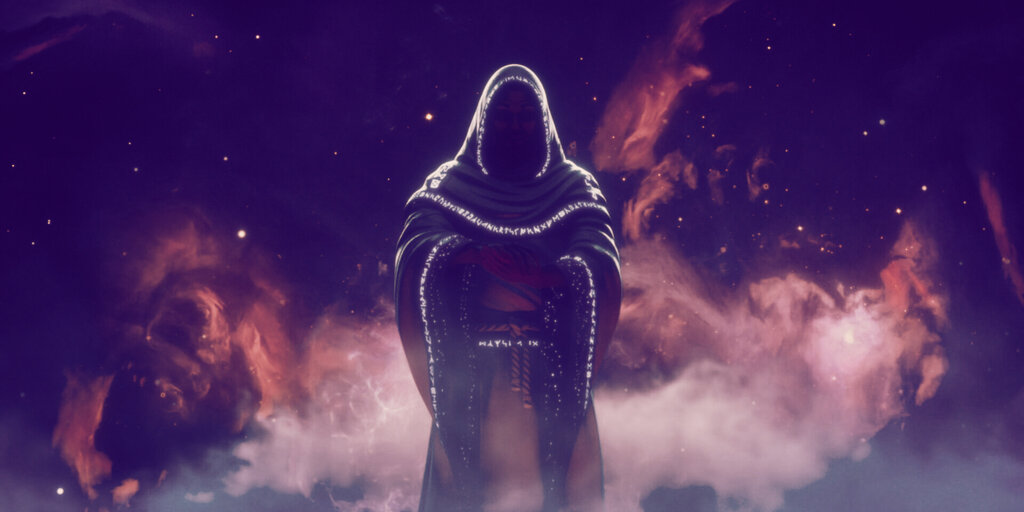 The market for NFTs caught fire within the last few months, with digital art collectors and gamers pouring hundreds of millions of dollars into blockchain-based digital collectibles. But the exorbitant costs associated with creating and transferring NFTs on Ethereum, the network on which most of the NFT action happens, have threatened to slow the market's growth.
Immutable, the Australian developer behind the Ethereum-based, NFT-driven collectible card game, Gods Unchained, wants to help fix that.
The company has developed a layer-2 scaling solution for Ethereum called Immutable X. It launched today and aims to enable larger-scale processing of transactions for crypto collectible non-fungible tokens and blockchain-driven video games.
According to the gaming company, Immutable X builds on top of Ethereum's existing decentralized system, but provides gas-free transactions—including trading and minting—as well as instant finality for as many as 9,000+ transactions per second.
Gods Unchained is the first beneficiary of the scaling solution, which is designed to cut down on the rising gas fees of the Ethereum blockchain, along with other benefits. Immutable learned firsthand that Ethereum's transaction limitations and gas fees are impediments to delivering large-scale crypto gaming experiences.
"Gas" fees are essentially the cost of using the Ethereum network, which are paid in the blockchain's native token, Ether (ETH), to the miners who help secure the network and validate transactions. High gas fees have been a common complaint for Gods Unchained players, and Immutable has long been working on a potential solution for such woes. In October, Immutable acknowledged in a tweet that "costs for creating and exchanging NFTs are too damn high," but added that "switching away from Ethereum to another blockchain was (and still is) laughable."
Costs for creating and exchanging NFTs are too damn high, and we realized a while ago that if we were serious about taking @GodsUnchained mainstream we needed a solution. Sidechains suck, and switching away from Ethereum to another blockchain was (and still is) laughable.

— Immutable (@Immutable) October 21, 2020
"Gods Unchained set out to solve a problem: users don't own their in-game assets. Since then, both the community and developers have been on a quest to expand play to earn and build a healthy trading economy," Immutable co-founder and President Robbie Ferguson told Decrypt. "With Immutable X, this is reality, joining a digital exchange that will allow us to mint assets, and for mortals to collect, play, trade, and sell cards and items as they see fit."
The developer opened up early access to Immutable X to Gods Unchained players, allowing them to link their wallets to have their existing, Ethereum-based NFT cards minted on the new layer-2 blockchain. That should enable much cheaper buying and selling without the rampant gas fees of Ethereum. Cards from the Trial of the Gods expansion are being minted first, with some 1.45 million assets already completed as of this writing, followed by cards from the original Genesis set.
After that initial alpha period, Immutable X will open up to additional NFT platforms and crypto game developers. Immutable's current roadmap includes onboarding new partners, adding feature and performance enhancements, and liquidity incentives including support for fiat money and drops. Immutable will also purchase carbon credits to offset the gas that the protocol consumes on Ethereum, seemingly in response to environmental concerns about the environmental impact of NFTs.
Immutable X is coming to OpenSea! We're excited to announce OpenSea will soon support the trading of NFTs on their gas-free layer-2 protocol, built directly on Ethereum. #Immutable #OpenSea pic.twitter.com/B3Y5j7Lfue

— OpenSea (@opensea) March 31, 2021
Projects that have already committed to using Immutable X include NFT marketplaces OpenSea and Mintable, as well as the developers of such Ethereum-driven games as Guild of Guardians and Illuvium. Japanese developer Double Jump.Tokyo/MCH+ is another such team that will use Immutable X to solve scaling issues. The studio, which is currently working with publisher Square Enix on an NFT initiative, is the team behind MyCryptoHeroes—an Ethereum game with lifetime sales of 26,000 ETH (about $51 million).
Immutable X is not the only scaling solution available for Ethereum, plus there are rival layer-1 blockchains that have sprung up in response to Ethereum's current limitations. For example, Polygon Network—previously known as Matic—is a layer-2 solution for Ethereum that is similarly designed for games and NFTs. Meanwhile, Dapper Labs' Flow blockchain, which has provided the backbone to more than $500 million in trading volume for NBA Top Shot, was created after Dapper's seminal CryptoKitties NFT experience nearly crashed Ethereum.
What sets Immutable X apart, then? According to Immutable's Ferguson, it's that their layer-2 blockchain is fully decentralized and built on top of Ethereum. It offers the same level of security and interoperability as Ethereum, plus users maintain custody of their own assets. Your average blockchain game player or NFT collector might not see a difference on the surface, but Ferguson suggests that it's a vital differentiator.
For Ferguson and Immutable, it isn't just about the tech though; there's a philosophical motivation as well. "The security of this future world should not be owned by large corporations, owned by venture capitalists, owned by a government, or by one individual," Ferguson said.
"It has to live on something truly decentralized; owned by the world. That's why we've chosen to scale Ethereum, rather than move to a sidechain like Matic or move to a VC-owned centralized blockchain."
Guide & Tools