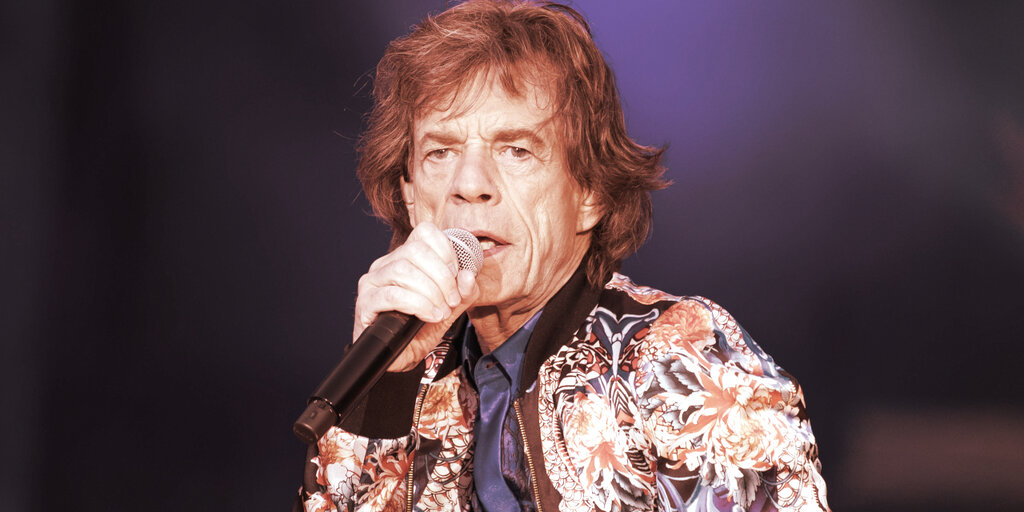 Legendary Rolling Stones frontman Mick Jagger is the latest musician to get in on the non-fungible token (NFT) crypto collectibles craze, launching a single-edition 3D animated video for his new song "Eazy Sleazy" performed with the Foo Fighters' Dave Grohl.
The 24-hour auction launched on NFT marketplace Nifty Gateway on Thursday and just ended, finishing with a final bid of $50,000. The winning user's name is "brockpierce," although it is currently unclear whether it's actually Brock Pierce, the crypto industry luminary, 2020 presidential candidate, and former child actor.
There's a 24hr charity auction on @niftygateway at 6pm BST today for a piece of Eazy Sleazy digital art, created by 3D artist @extraweg - proceeds from this will be going to a few charities picked by myself and Dave Grohl @foofighters - find out more at https://t.co/fmNxlrVjcD pic.twitter.com/CoZEukn5cb

— Mick Jagger (@MickJagger) April 15, 2021
Proceeds from the NFT will be split between a trio of organizations that benefit independent music venues affected by COVID-19 pandemic shutdowns. The organizations are Back Up, Music Venue Trust, and the National Independent Venue Association (NIVA), plus a percentage of the sale price will benefit unspecified "environmental causes."
The NFT, created with 3D artist Oliver "Extraweg" Latta, shows a person running through giant human heads, emerging different—male or female, with a varying primary color—each time it smashes through the face and continues the loop. The backing track, written by Jagger, is about "eventually coming out of lockdown, with some much-needed optimism," according to Jagger's official website.
An NFT can represent nearly any kind of digital item, including videos such as this one along with still images, animated GIFs, tweets, trading cards, and plenty more. The NFT market has boomed so far in 2021, generating more than $1.5 billion in trading volume in the first quarter alone, according to DappRadar.
With the surge in NFT value and demand has come a steady stream of celebrity and brand NFTs, some with charitable angles. For example, brands such as Taco Bell and Charmin released NFTs that generate funds for philanthropic causes. Meanwhile, The New York Times sold a tokenized column for about $562,000, with proceeds going to the publication's nonprofit Neediest Cases Fund.
Some popular musicians have also approached NFT sales as another revenue stream, with crypto collectible drops from the likes of Snoop Dogg, Grimes, Kings of Leon, The Weekend, and M.I.A. Grimes' collection of artwork sold for more than $6 million, while The Weeknd's recent drop on Nifty Gateway generated more than $2 million in sales between open and limited edition pieces.
Guide & Tools