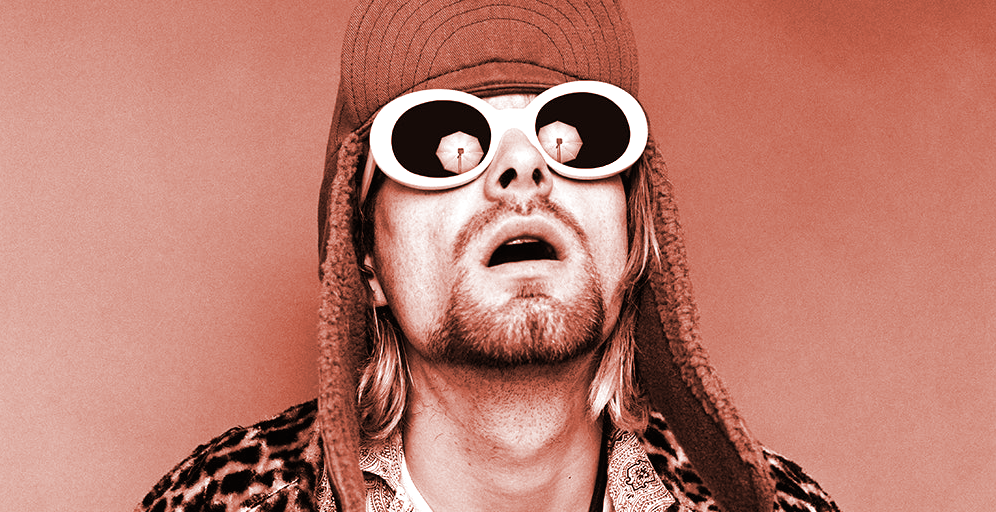 Fans of legendary grunge rock band Nirvana and its iconic, late frontman Kurt Cobain can grab a digital piece of history next week when photographer Jesse Frohman releases images from the band's purported final official photoshoot as non-fungible tokens (NFTs).
Dubbed "The Last Session," the photos were taken in 1993, about six months before the singer took his own life in early 1994. The images themselves have been widely seen in the decades since, with Cobain wearing white-rimmed sunglasses, a leopard-print coat, and trapper hat, with some photos also featuring his bandmates Dave Grohl and Krist Novoselic.
An NFT is like a deed of ownership to a digital item, be it a still photo, video clip, tweet, or something else, and it can be authenticated via blockchain technology. This allows creators to sell provably scarce, limited edition digital items. NFTs have exploded in popularity so far in 2021, surpassing $1.5 billion in transaction volume in the first three months, according to DappRadar. Crypto artist Beeple sold a single piece of NFT artwork for $69.3 million via Christie's auction in March, setting a record that has yet to be surpassed.
Available for purchase on May 3, the Cobain NFT collection is headlined by a single-edition "The Last Session" complete collection, which includes a bundle of 104 images including Polaroids, outtakes, and never-before-seen shots. The starting bid is 27.27 ETH (more than $74,000, at today's prices). You can view all of the images on the project website, but only the winning bidder will receive the high-resolution versions.
(1/9) Today I'm proud to announce my first NFT drop of iconic images from my photoshoot of Kurt Cobain in 1993. The images, some of which have never before been seen, are from Kurt's final photoshoot six months prior to his passing. #NFTCobain https://t.co/Psty3rdWK7

— Jesse Frohman (@jessefrohman) April 28, 2021
Additionally, the sale includes 10 "Nevermind" edition NFTs, each a montage with four images featuring distinct colorization, each of which starts at 2.7 ETH (about $7,360). There will also be 100 "In Utero" NFTs spanning 20 different images with five of each education available. Those will be sold outright (not at auction) for 1 ETH each (currently over $2,700).
"Everyone was doing an individual picture here, an individual picture there, maybe a group of three here, but I wanted to do something that other people hadn't done before," Frohman told Rolling Stone about offering a 104-image NFT bundle. "It's something so special that won't be offered again."
The NFT sale is not officially associated with Nirvana or the Cobain Estate. However, Frohman told Rolling Stone that the estate is aware of the sale, and that he will donate a portion of proceeds to the JED Foundation, a suicide prevention and mental health awareness charity that the estate is involved with.
While Nirvana is not officially involved in this particular sale, many popular musicians have turned to NFTs as an additional revenue stream. Artists such as Snoop Dogg, Grimes, and The Weeknd have released NFT artwork, while Kings of Leon released a special NFT edition of their latest album.
Even Nirvana member Grohl has been involved in an NFT drop: he collaborated with Rolling Stones legend Mick Jagger on the song "Eazy Sleazy," which was turned into a tokenized animated video with artist Oliver "Extraweg" Latta. The single-edition sale raised $50,000 for charities benefitting music venues impacted by the COVID-19 pandemic.
Guide & Tools