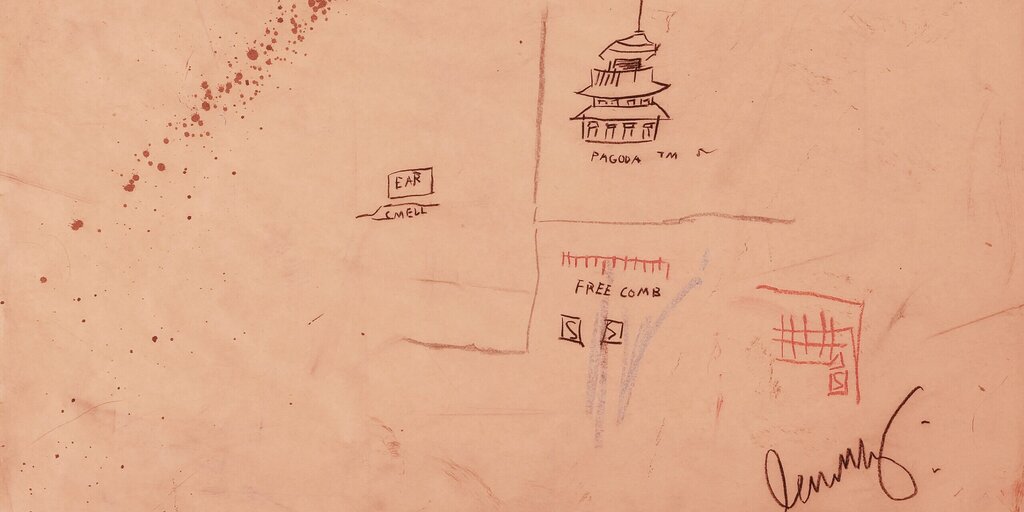 The estate of Jean-Michel Basquiat has squashed the sale of an NFT tied to "Free Comb with Pagoda," a mixed-media work from 1986.
The seller was a mysterious group Daystrom, who put out a press release about the sale on Tuesday. The announcement came along with a link to the NFT itself, which was for sale on the marketplace OpenSea. 
"The estate of Jean-Michel Basquiat owns the copyright in the artwork referenced," a spokesperson for the estate told The Art Newspaper. "No license or rights were conveyed to the seller and the NFT has subsequently been removed from sale."
The NFT was delisted from OpenSea this afternoon.
Basquiat, who died in 1988, was one of the most influential American artists of the 20th century; his Untitled, from 1982, remains the most expensive American artwork ever sold at auction.
Daystrom describes itself as "the Emmy winning digital provocateur behind David Bowie's online bank." The only other NFT attributed to its account on OpenSea is an image called "The All American Breakfast," which appears to have something to do with QAnon.
Daystrom was also promising that the NFT could "be deconstructed" at the high bidder's discretion, "leaving the NFT as the only remaining form of Basquait's [sic] work to exist." Something similar happened with a Banksy earlier this year.
NFTs are non-fungible tokens that can be used to represent ownership of specific digital files on the internet. They've been around for years but have recently caught on in the digital art world. The market has exploded within the last few months, with NFT sales shattering records month over month.
The market, however, is also rife with inauthentic images. And this isn't the first time this has happened with Basquiat—this past winter, a group called Seen Haus teased an NFT attached to what they claimed was a certified Basquiat (something the estate never confirmed).
Shepard Fairey, the artist behind former President Obama's "Hope" campaign poster, recently tweeted about an issue with a copycat NFT on Rarible, an OpenSea competitor.
NFTs are often billed as hard and fast proof of ownership, but they raise significant legal issues around copyright and intellectual property; as with everything else in crypto, risks abound.
Guide & Tools