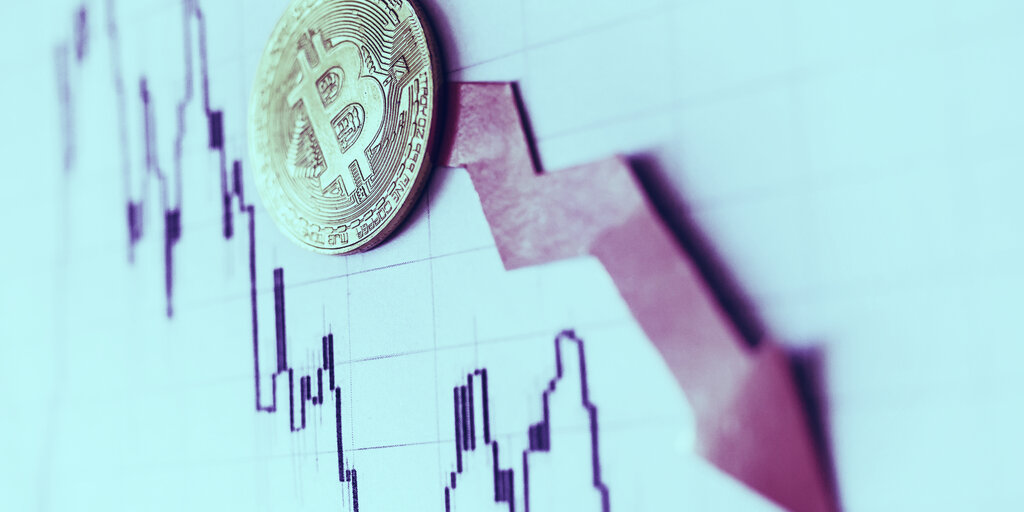 Cryptocurrency investors are reeling from an overnight crash that shrunk the crypto market by 7.92% and knocked $10,000 off Bitcoin's price.
The market cap for crypto is now at $2.08 trillion,  according to price metrics site Nomics. 
In the early hours of Sunday morning, Bitcoin fell to a low of $52,144, a sharp drop from the high of $61,271 yesterday. 
Bitcoin took the rest of the crypto market down with it. Ethereum sank 11.45%, hitting a nadir of $1,978, its lowest price since April 7. By Sunday afternoon it had rebounded to $2,174.
Altcoins are suffering the worst today. XRP, which recently made impressive gains following a string of victories in court for Ripple, is down 20% to $1.29, while Bitcoin Cash link term_id="32043"[/link], which rallied 25% yesterday, fell 20% to $885. 
The crash also caused delays on crypto exchanges. From 5AM through 6:30 AM UTC, Binance reported issues with placing orders. Binance has since resolved the problems. 
We are aware of some temporary difficulties with order placement on https://t.co/KiZP5RBX6P.

Please be assured our team is doing everything we can to resolve the issue. Thank you for your patience and apologies for any inconvenience caused.

— Binance (@binance) April 18, 2021
What's behind the crash?
Unconfirmed rumors on Twitter late Saturday night about impending charges from the U.S. government over crypto money laundering appear to have been the initial trigger.
Darius Sit, co-founder of Singaporean crypto trading firm QCP Capital, told Decrypt he sees that as the cause.
US TREASURY TO CHARGE SEVERAL FINANCIAL INSTITUTIONS FOR MONEY LAUNDERING USING CRYPTOS - SECURITIES LAWYERS FAMILIAR WITH THE YELLEN TASK FORCE PLAN SAID

— Andrew Fisher (@acpandy) April 18, 2021
One account cited the source as securities lawyers familiar with U.S. Treasury Secretary Janet Yellen's task force. The accounts provided no further evidence.
Last week, the Treasury announced sanctions against 16 groups and 16 individuals, mostly linked to Russia, which it claims were using cryptocurrencies to influence the 2020 U.S. elections.
Separately, Bitcoin's hash rate suddenly sank by 30% earlier this week.
Dovey Wan, founding partner of crypto V.C. firm Primitive Ventures, attributes the plunge to a power outage in China's Xinjiang province, the region that houses China's largest Bitcoin mining operations. Authorities cut the power following accidents in three coal mines in the province. 
Xinjiang is facing a major power outage due to a coal mine explosion

Bitcoin hashrate drops almost 30% instantly lol

— Dovey "Rug The Fiat" Wan (@DoveyWan) April 16, 2021
This weekend crypto crash is a sobering reminder that markets rarely go up forever.
The views and opinions expressed by the author are for informational purposes only and do not constitute financial, investment, or other advice.
Guide & Tools