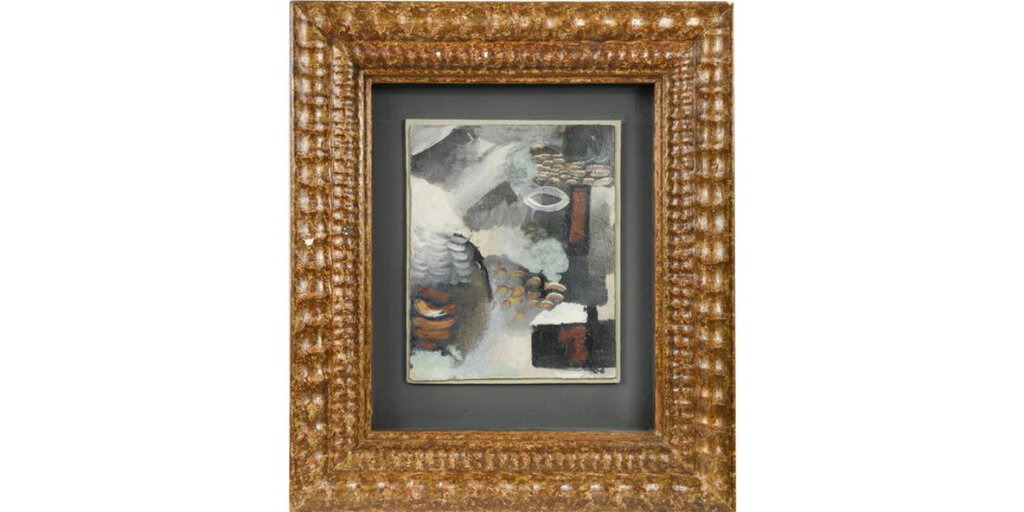 Wladimir Baranoff-Rossiné (1888-1944) is possibly the most famous Russian-Ukrainian avant-garde artist you've never heard of— even though his sculpture is on permanent exhibition at the Museum of Modern Art in New York.
Now, almost 100 years after it was painted, his 1926 work "Abstract Composition" is being auctioned today, by his estate, alongside the most modern of inventions—a non-fungible token (NFT) which provides verifiable proof of ownership.
"The NFT space represents a new medium and frontier for creative expression which is only too fitting to showcase the [Baranoff-Rossine] collection in a never-seen-before way," said Wladimir Baranoff-Rossiné, the artists' grandson.
It's the first time, according to the Baranoff-Rossiné estate, that these cryptographically unique tokens are being paired with such a high-profile work of traditional art—creating a bridge between the digital and physical worlds, but also a way for artists to maintain or revive their relevance, and perhaps forge a brand new community following.
Physical meets digital
Baranoff-Rossiné's work has its first auction on a 21st-century art marketplace, Mintable, where it will be sold alongside a corresponding NFT. Unlike a traditional fine art auction, there's no estimate put on an artwork; currently, the highest bid on the Baranoff-Rossiné painting is $13,450.
Mintable is backed by entrepreneur Mark Cuban, and built on the Zilliqa and Ethereum blockchains. The marketplace will send the insured Baranoff-Rossine painting to the winning bidder, and they will immediately receive the NFT—which serves as a blockchain-based authentication certificate.
Now far too big to ignore, NFTs have taken the art world by storm, after a digital artwork by Mike "Beeple" Winkelmann was sold for $69 million earlier this month—the third biggest sale by a living artist.
Hundreds of thousands of NFTs have now been sold, and sales of crypto art on the Ethereum blockchain now top $405 million. Artists working in traditional mediums are now eyeing hybrid digital-physical NFTs, including Damian Hirst.
1/3 - As part of the he historic https://t.co/fVNFVRBqb2 #NFT sale happening right now on @mcuban-backed @mintable_app, we will be inviting the winner of the main auction to meet the family of the artist to discuss the collection and discover the archive. pic.twitter.com/iXYkR2pQUl

— Wladimir Baranoff-Rossine (@wladimirbr) March 25, 2021
The person who places the winning bid on the Baranoff-Rossiné NFT will also get a chance to meet the artist's family, which has owned the painting since it was created.
And nine Baranoff-Rossiné limited-edition works, represented by NFTs, are also being auctioned in purely digital form.
Wladimir Baranoff-Rossiné
In recent years, the art world has not been kind to this Ukrainian-born artist, even though he is considered a founding father of Russian Avant-Garde Cubo-Futurism—a movement that rejected the past, and celebrated all that was modern about the early twentieth century.
While a 1910 Baranoff-Rossiné work, "Adam and Eve,'" was auctioned for $5.3 million at Christie's in 2008—reportedly, the 23rd most expensive painting ever sold at auction by a Russian painter at the time—since then, around 60% of the 100 or so Baranoff-Rossiné works auctioned have failed to sell.
The artist spent the last 18 years of his life in France and perished in Auschwitz after he was denounced to the SS for forging passports for Jews. Some collectors consider that, without a home county to nurture his memory, he has almost disappeared from view.
Baranoff-Rossiné explained that his grandfather was an inventor as well as an artist and was "continuously experimenting with color, textures, and light."
In his day, he was also known for his forward-thinking vision when it came to fusing art and music, having created something called the Optophonic Piano, which projected revolving patterns and was employed by concert halls all over Europe.
As Baranoff-Rossiné becomes a key part of this brand new chapter in the history of art, this contemporary of Wassily Kandinsky and Marc Chagall may finally regain his place in the spotlight.
Guide & Tools