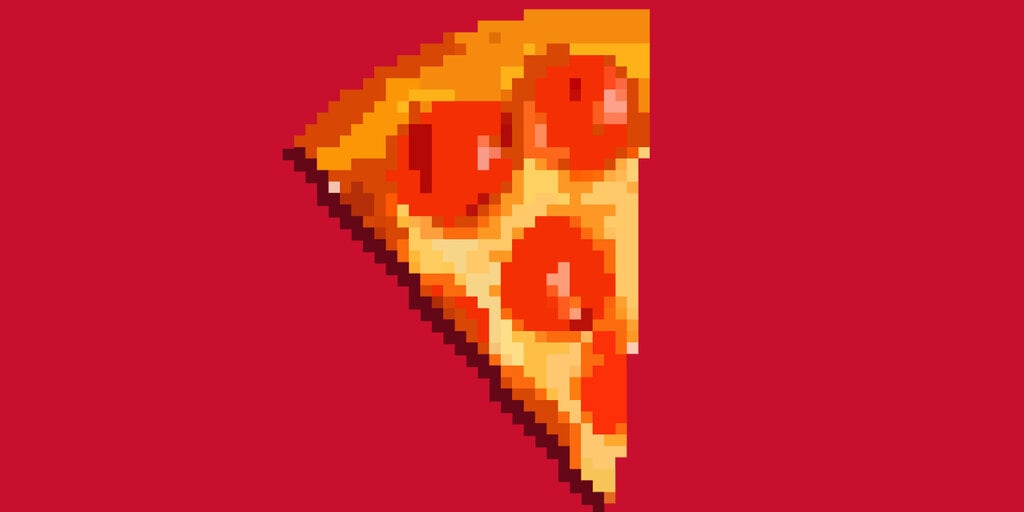 In recent days, brands have leapt aboard the multi-million dollar NFT bandwagon, with companies ranging from Taco Bell to Charmin minting their own non-fungible tokens. 
Reactions have ranged from bafflement to weary eye-rolls—but is it so surprising that brands are wholeheartedly embracing the opportunity to engage with their audiences via these unique, collectible tokens?
For some brands, it's the trend of 2021, so far, and they've seized on the promotional opportunity presented by NFTs. Others, though, have seen a long-term value proposition in the digital scarcity that NFTs offer. 
Here's a quick rundown of some of the biggest brands already aboard the NFT hype train.
1.

Pizza Hut's pixelated pizza
Pizza Hut Canada (owned by Yum Brands! which also owns Taco Bell) put a pixelated pizza on Rarible for 0.0001 ETH ($0.18). The idea was that it should be affordable, like the cost of a bite of Pizza, Megan Farquhar, Executive Creative Director at Ogilvy, the agency responsible for the campaign, told Decrypt. 
The digital Mona Pizza is upon us. Pizza Hut presents 1 Byte Favourites, a highly exclusive NFT minting run of 1 byte pizzas, each for the cost of 1 bite of pizza. Available for an extremely limited time, but will last forever. https://t.co/f4831jybLc pic.twitter.com/yhUbxfs7YG

— Pizza Hut Canada (@PizzaHutCanada) March 17, 2021
The NFT was used as a marketing opportunity to promote four new recipes coming to Canadian restaurants; each week, the company will release a new pizza slice as an NFT. The first one was sold earlier this week and has been re-listed for 5 ETH ($9,000). "Pizza Hut's delicious pizza is here to stay, digitally and otherwise," said Farquhar.
2.

Pringles and the can of chips you can't eat 
Kellogg's-owned Pringles announced the release of a limited-edition flavor that it's calling CryptoCrisp during the height of NFT mania. There were 50 packages auctioned, but they only exist as NFT artwork. 10% of sales are going to the artist who created the NFT, H+ Creative. 
Introducing our newest Pringles flavor: CryptoCrisp, an exclusive #NFT flavor created by artist #VasyaKolotusha. Only 50 exist, all starting at the price of a Pringles can. Click the link to get your *digital hands* on one! https://t.co/JA6Bas4Ez0

— Pringles (@Pringles) March 17, 2021
3.

Taco Bell's delectable collectible
Taco-themed collectibles hit the Internet when fast-food chain Taco Bell dropped its collection—which promptly sold out. Taco Bell created five distinct NFTs, on sale for 0.001 ETH ($1.79), which is quite cheap as NFT sales go. But some collectors were asking for close to $200,000 on the resale market. At least the proceeds go to a worthy cause; the Taco Bell Foundation, which is focused on helping young people find careers.
Our Spicy Potato Soft Tacos can now live in your hearts, stomachs and digital wallets. https://t.co/IC8b45lmd9 pic.twitter.com/FJUcuwCuyy

— Taco Bell (@tacobell) March 8, 2021
4.

MGA Entertainment gets bratty with dolls
MGA Entertainment's Bratz franchise—spanning toy dolls, movies, TV shows, and games—minted a series of "NFT dolls," in the form of collectible cards last December, partnering with Animoca Brands. The rarest one, "Shimmerin,'" was redeemable for a physical doll.
What's your @Bratz Collectiblez style? Select from a large catalog of digital collectible cards and tiers! https://t.co/ACOW3C0WKy#animoca $WAXP #Bratz #BratzLookz #dolls #collectibles #gamers #NFT #NFTs pic.twitter.com/73TOooMtP2

— BratzLookz (@Bratz_Lookz) December 22, 2020
5.

Ubisoft and its disappearing Rabbids
Game publisher Ubisoft released an Ethereum-based Rabbids game last year, which lets players purchase characters from the popular gaming title. Naturally, with Rabbids, there's a twist, players potentially won't own the Rabbid for very long; it can be purchased by another user and "stolen." But the proceeds go to charity UNICEF, so that's OK.
"We wanted to do something crazy, something different, and we really wanted to create our own NFTs and see how far we could go in the programmable aspect of things," Ubisoft's Blockchain Initiative Director Nicolas Pouard told Decrypt.
6.

Charmin's non-fungible toilet paper 
Procter & Gamble lavatory-paper brand Charmin raised a few eyebrows when it released a series of "NFTP" art pieces, dubbed Non-Fungible Toilet Paper this week. Bids for the Charmin NFTs were as high as 0.15 ETH ($264.72), with proceeds going to the humanitarian aid charity Direct Relief.
Introducing NFT(P) by Charmin.

Sometimes a better bathroom experience goes beyond the seat, that's why were rolling out the first-ever NFT art by a toilet paper brand!

Bid on the digital art using the link below. All proceeds donated to @directrelief!https://t.co/hZkNwEWbDG pic.twitter.com/uJgWtPQDvy

— Charmin (@Charmin) March 17, 2021
7.

Nike raids CryptoKitties to patent CryptoKicks 
Sportwear supremo Nike saw the NFT trend coming two years ago, when it patented NFT shoes called CryptoKicks. The idea is that different designs of shoes can be 'bred,' essentially to create new, custom sneakers that can even be made in the real world. The concept pays homage to one of the first NFT releases, CryptoKitties, which enabled owners to breed virtual cats. 
8.

Vodafone gives London Vatom Vapor
Back in 2019, smartphone giant Vodafone launched an augmented reality game where players had to hunt down NFTs named Vatoms on the streets of central London. The game was part of a promotional Apple giveaway. Over a two-hour period every day for a week, Vatoms appeared in six "high-footfall" locations. The game was so successful that Vodafone launched another version the following year, partnering with Samsung to offer users thousands of tech prizes that were tied to the NFTs.

9.

Panini premiers NFTs for the Leagues
The National Football League (NFL) and the National Basketball Association (NBA) have both partnered with Panini America for NFT cards featuring American players as crypto-collectibles. The top collectibles company was one of the first major card manufacturers to use NFTs, allowing collectors to own, trade, sell, or auction digital assets the same way they would a physical trading card.
10.

Formula 1 races to NFTs
Players can build a collection of NFTs including car parts and drivers in an Ethereum-powered game named F1 Delta Time. The game was developed by F1 partner, Animoca Brands, which is working with hundreds of brands on NFTs, including MotoGP and Formula E. 
" @animocabrands sells #F1 race cars and event segment #NFTs in game auction for $3⃣million"@F1DeltaTime is going strong! You can also be part of making history in creation of #PlayToEarn gaming #REVVolution! https://t.co/yuyT7JTltG

And we are just getting started..

— F1® Delta Time (@F1DeltaTime) March 16, 2021
It's attracted big money; an NFT share in an F1 Delta Time race track was auctioned for $223,000 last December to NFT whale buyer Metakovan, who also bought an in-game race car for $110,000 just a month earlier. Although at the time the purchases were among the most expensive NFTs sold, Metakovan's since gone on to spend a record-breaking $69 million on a digital artwork by crypto artist Beeple.
Guide & Tools