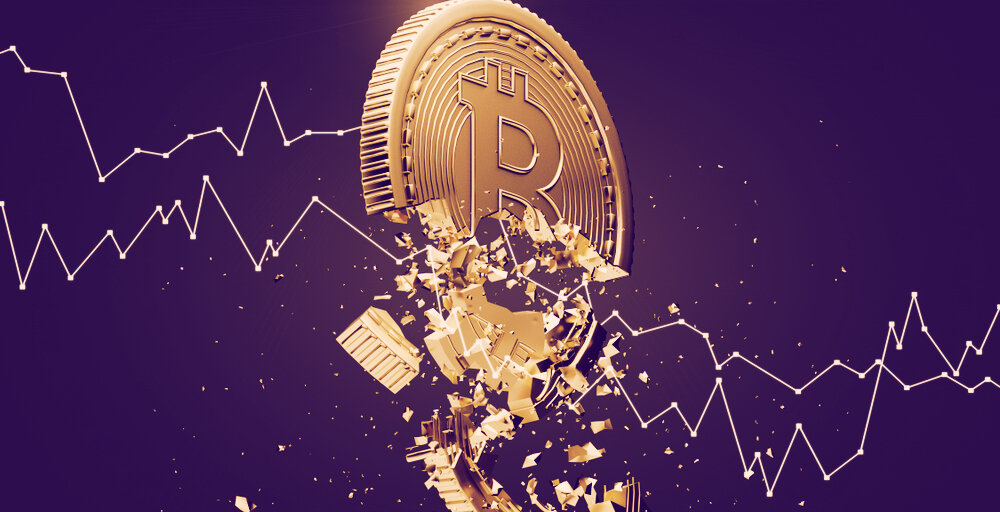 If you thought the market's bloodletting was over (in this cycle anyway), we have bad news for you.
The crypto pull back continued overnight and into Tuesday morning. Bitcoin is down 4.5% over the last 24 hours according to Nomics, racking up its second consecutive day of losses. 
From the highs of $61,500 hit on Sunday, Bitcoin traded as low as $53,000 in the last 24 hours, representing more than a 10% slide. For futures markets, the picture was even bleaker. 
In the last hour alone, nearly $500M in #Bitcoin Longs got liquidated, this is a historic ATH.

There is excess greed in the system, with 60% of contracts levered 20x or more.

Long liquidations are an artifact of the current bull market. pic.twitter.com/n9NciJcS62

— Jan & Yann (@Negentropic_) March 15, 2021
According to a tweet from Glassnode co-founders Jan & Yann, there were $500 million liquidations of Bitcoin long positions - bets that the price would go up - in one hour. That was the most that has ever been liquidated, according to Glassnode. The founders chalked up the massive losses to "excess greed in the system". 
But others pointed out that the losses were even greater than that. Exchange data company Bybt reported that losses were north of $1 billion. 
$1.12 billion worth of longs liquidated in the past hour

Chart: @bybt_com pic.twitter.com/n5OK9DP4Sx

— Bloqport (@Bloqport) March 15, 2021
Such sizeable losses have had an impact on market sentiment, according to the Fear and Greed Index. During the last bull run, sentiment was consistently in the 90s, suggesting that greed was driving the price up. This month however, sentiment has slid back in to the 70s, suggesting the exuberance of February has cooled. 
Taking a closer look at other market measurements over on Market Milk, sentiment has pulled back into neutral territory, suggesting investors are sitting this round of turbulence out waiting to see if this slump is part of Bitcoin's broader pattern of surges and pullbacks or if something larger is afoot.    
Taking a look at what's happening on Wall Street, crypto investors will have reasons to be cheerful. 
The Dow Jones rose by over 100 points and the S&P 500 Index also inched to new highs, thanks to the finalising of the $1.9 trillion stimulus bill that's poised to spur consumer spending and ignite economic growth.
This has led a slew of economists to upgrade their expectations for the broader US economy. 
Goldman Sachs projected the fiscal rescue package would give the economy even greater impetus in 2021, estimating gross domestic product would expand by 6% in the first quarter. 
But with a raft of good news comes a niggling feeling that all might not be well. Markets will be pouring over remarks from Fed Chair Jerome Powell - who is due to give a statement this week - for hints about whether the central bank is growing concerned about moves in the bond market, and an economy that could overheat.
Guide & Tools