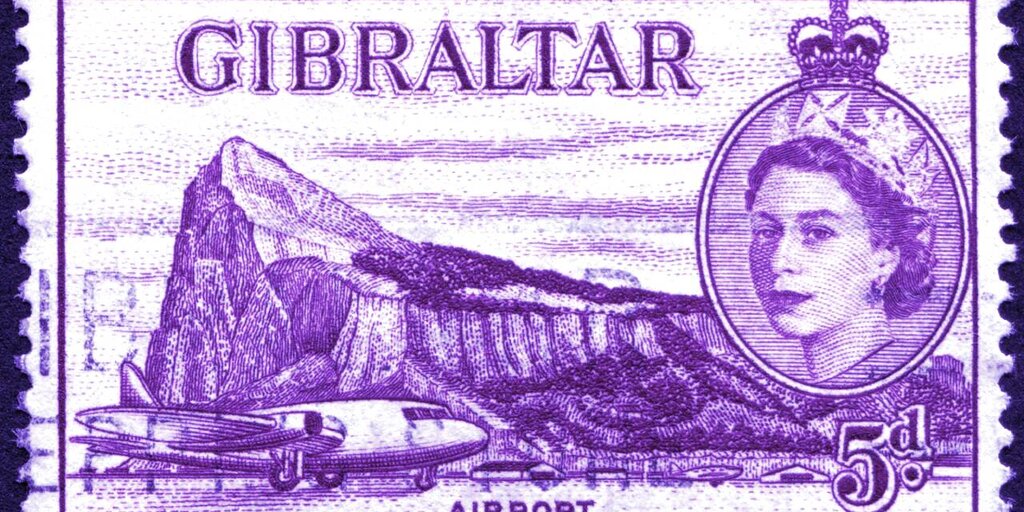 The marriage of cutting-edge tech with inspired digital artwork, ephemera, and memes has drawn investors and collectors to non-fungible token marketplaces where they've been spending eye-watering amounts on digital works such Beeple's The First 5000 Days.
Now, postage stamps are getting the NFT treatment. 
Publicly listed, UK-based blockchain venture operator Coinsilium this week unveiled plans for Gibraltar's new stamp series, which will be issued alongside NFT collectibles on May 17, with each having a unique cryptographic value. 
"Our aim is to tap into the growing demand from both the philatelic and NFT community and give enthusiasts a meaningful collectible that can truly bring this stamp collecting into the digital world," Coinsilium CEO Eddy Travia told Decrypt in an email. 
The company said that the artwork designs for the NFTs, "a selection of exclusively commissioned images of Gibraltar," had been approved and that its design partner RedFOX is now preparing them for listing on a soon-to-be-announced digital marketplace.
Gibraltar Crypto Postage Stamp will be tied to the release of a blockchain based Digital Collectible, or non-fungible token ('NFT') counterpart, to be exclusively produced by Coinsilium in collaboration with Vietnam-based RedFOX Labs. $RFOXhttps://t.co/7vMdVSiyFr pic.twitter.com/ZA6pvN9M06

— REDFOX_LABS (@redfoxlabs_io) December 17, 2020
A total of 50,000 stamps will be issued and represented by 100,000 NFTs. It's unclear how the two NFTs representing each stamp will be differentiated (Coinsilium declined a request for clarification.) 
The NFTs will be minted with varying levels of scarcity "as individual constituents making up a collectible set, including a selection of extremely limited 'super rare' NFTs designed with enhanced value characteristics," said the startup in its announcement. 
Coinsilium is working with the Gibraltar Philatelic Bureau on the project, and the startup also has plans to launch an NFT development studio in Gibraltar, dubbed Nifty Labs.
Nifty Labs will develop smart contract systems for NFT applications and will offer services to enterprises who want to develop NFTs, according to Coinsilium. One of these is a bridge for NFTs to the Bitcoin blockchain.
Not the first stamp issued as an NFT
Gibraltar is not the first to target stamp collectors with NFTs; in June 2019, Austria issued 150,000 "crypto-collectible" stamps, on the Ethereum blockchain—the first time a government had launched a non-fungible token.
Austria's NFT issue of stamps was designed in a landscape format, with the postage stamp components on the left (so that it can be used as a postage stamp) and the crypto credentials on the right, beneath a scratch ticket-style covering.
The idea of having stamps of different designs joined together when printed is not new and is known as se-tenant in philately, the study of stamps. 
The collection was reviewed by Canadian Stamp News, and the industry publication said that because the stamps are government-issued and tied to a postage stamp, they would enhance any complete Austrian collection.
The Gibraltar stamp series will be limited to 50,000, with 40,000 available for public sale on release (10,000 stamps have been pre-reserved by the Gibraltar Philatelic Bureau for their own clients and dealers.) Pre-orders will be accepted from around April 19, and a general release is slated for mid-July.
With stamp collecting reportedly on the rise among millennials, maybe it will start an NFT stampede from tech-savvy philatelists.
Guide & Tools