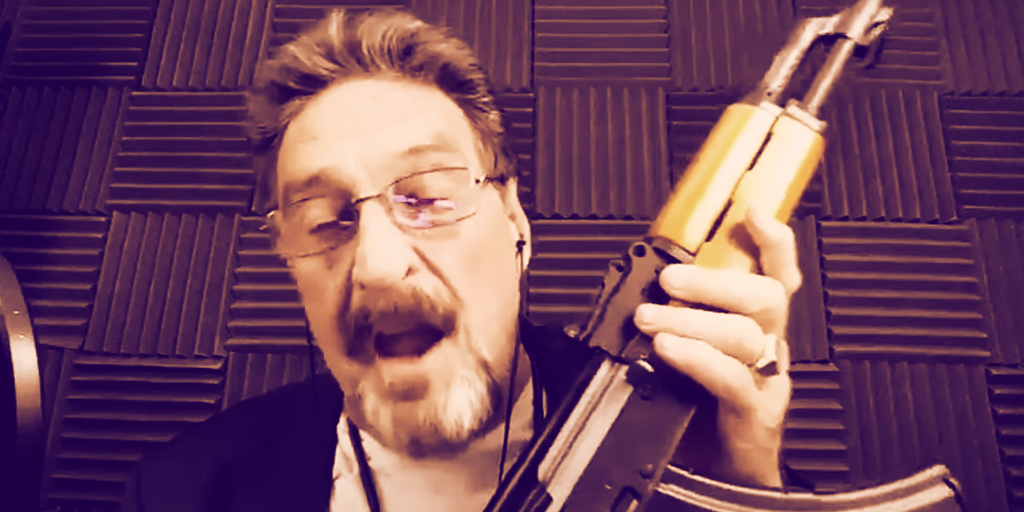 John McAfee, the 75-year-old billionaire cybersecurity mogul who fell off the rails into a life of drugs, parties and crypto, today criticized allegations brought against him by US regulators while he awaits trial for tax evasion, fraud and money laundering.
McAfee, currently stuck in a Spanish prison, awaits extradition to the US. There, he'll face charges for tax evasion, and, as of this week, securities fraud and money laundering. 
The securities fraud claims spring from McAfee's promotion of cryptocurrency projects from December 2017 through October 2018. FBI Assistant Director William Sweeney said in a statement that McAfee's tweets, along with those of his crypto team, amounted to a $13 million "pump-and-dump scheme." 
McAfee addressed the allegations today on Twitter. "The [US Securities and Exchange Commission's] allegations are overblown," he said. "My team evaluated every promotion based on management, business plans and potential. No one could have foreseen the altcoin market crash. 
Re: my prior post about Docademic:
I kept pointing out: Medical field, brilliant management, existing product, growing user base. Doesn't take a genius to see the only missing ingredient is time - the long term hold. Time happened. Approaching fat city now.

— John McAfee (@officialmcafee) March 19, 2019
McAfee said that Docademic, the failed crypto project he said he shilled the most, best expresses his belief in the coins he promoted. "Even as it crashed I held every single coin allocated to me. I never sold a single coin. I believed in the company to the very end," he said of the healthcare blockchain project.
Docademic (MTC), a medical coin, has increased in price 300% since I first recommended medical coins as an area to investigate last month. Medical coins lost 99% of value in the bear market. They obviously will recover their lost value soon. The sky is the limit for the long term

— John McAfee (@officialmcafee) July 9, 2019
As Decrypt reported in 2018, McAfee denied claims that he was executing a swift pump n' dump and threw his former CEO, Jimmy Watson (also named in the indictment) under the bus. "All I can say is 'Laugh my fucking ass off,'" said McAfee. 
He continued: "Where are the specifics? Who asked for their money back? Dude, i will rip you a new asshole in court if you dib't unclude hard data to support thwse hiksrioys statements. I could use the money yoy'll be paying me (sic)."
New York attorney Audrey Strauss is unconvinced by McAfee's years of protestations. She said in a statement that McAfee and his team promoted the coins to his hundreds of thousands of followers "through false and misleading statements to conceal their true, self-interested motive."
Guide & Tools