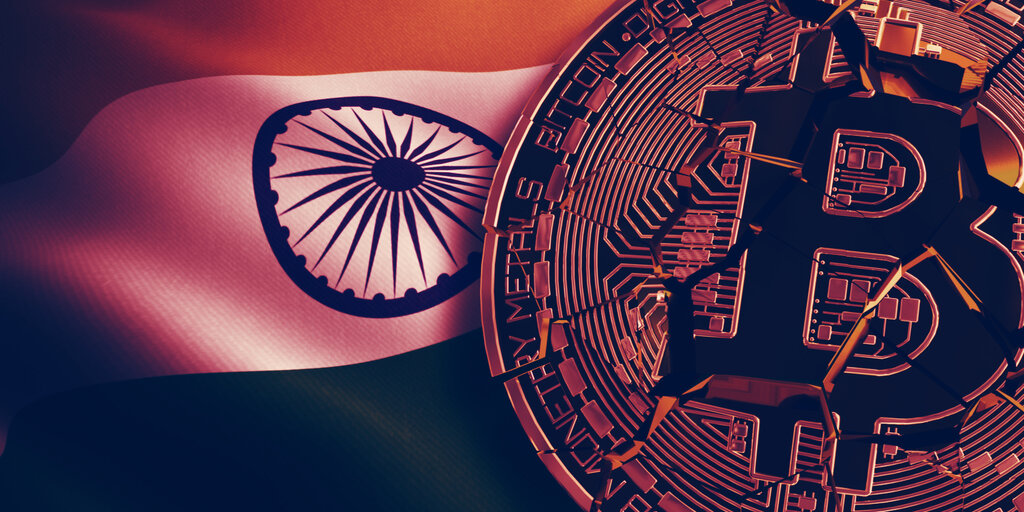 India's government gave crypto investors another reason to fear on Monday after high-ranking officials said a new law would ban the possession or usage of cryptocurrencies, as per a report on Reuters this morning.
The officials said the use of blockchain technology would be promoted in the country but the use of "private crypto-assets"—such as Bitcoin and Ethereum—would be stamped out. A previous bill from 2019 went as far as proposing jail terms for offenders, but for now, the officials say strict penalties are expected instead.
But despite the downbeat outlook for crypto in the country, Indian Finance Minister Nirmala Sitharaman said at a separate event over the weekend that while regulations were on the cards, the government would allow a "window" for experiments on Bitcoin, blockchain and cryptocurrency.
"We will allow a certain amount of a window for people to experiment on blockchain and Bitcoin," said Sitharaman, adding that a Cabinet bill on cryptocurrencies was getting ready and is expected to pass soon.
She added that while the Reserve Bank of India—the country's central bank—could have taken its own official decision on cryptocurrencies, the Finance Ministry was "very clear" that they would not be "shutting off all options."
Day 865

Our Finance Minister has now made it clear that India will NOT ban crypto

It's great to see leaders of India listening to the voice of the crypto community

Let's continue to spread the right information about Crypto in India

Jai Hind #IndiaWantsCrypto

— Nischal (WazirX) (@NischalShetty) March 15, 2021
Mixed signals for Bitcoin investors?
The opposing sentiments of government officials and Sitharaman are a result of the way India's financial system is structured.
The RBI is a part of the Finance Ministry, but holds complete autonomy over monetary policies, issuance of the Rupee, and regulation of the Indian banking system. The Finance Ministry, on the other hand, handles macroeconomic policies, public financing, inflation, and stock markets.
But the two are famous for not getting along. Their heads have held different views on how money should be deployed in India—with one such disagreement even said to be the reason behind the 2018 resignation of former governor Urjit Patel.
Bitcoin and crypto investors are seemingly caught up in the middle of the tension between the RBI and the Finance Ministry. The RBI had previously banned cryptocurrencies in 2018, but the Supreme Court overturned the ban in May 2020.
The RBI said at the time it would continue to lobby against digital currencies, and returned in early 2021 with a new proposal to ban their usage while proposing its own digital stablecoin. It cited potential "financial instability" of the Indian economic system as a significant concern behind its move.
For now, the RBI and the Finance Ministry seem to be at loggerheads once again. Meanwhile, Indian crypto investors remain undeterred—trading volumes continue to average nearly $100 million at WazirX, the country's biggest crypto exchange.
Guide & Tools