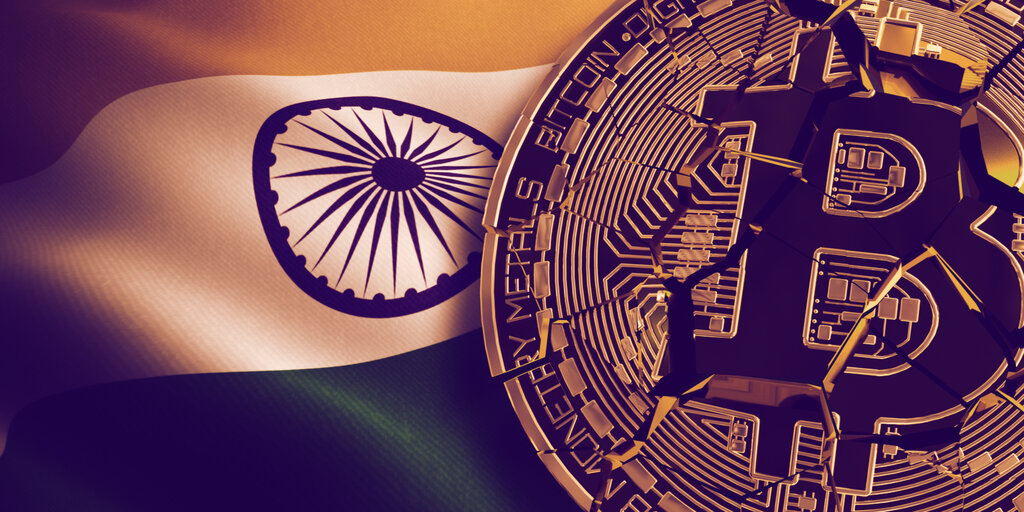 After much speculation about whether India will introduce a blanket ban on crypto, the government has finally dropped a major hint that it will not do so. The Indian crypto industry representatives told Decrypt that their constructive engagement with the government has paid off.
Nirmala Sitharaman, India's Finance Minister, said yesterday on India's business channel, CNBC-TV18, that the government's position on crypto will be "calibrated" and it wants to make sure there's "a window available for all types of experiments in the crypto world."
"A lot of negotiations and discussions are happening around cryptocurrency with the Reserve Bank of India," she said. "[India's Central Bank] will be taking a call on what kind of unofficial cryptocurrency will have to be planned and how it has to be regulated."
"So, we are not closing our minds, we are certainly looking at ways in which experimentations can happen in the digital world, cryptocurrency and so on."
An exception for blockchain tech
In January, the Indian Parliament tabled the "The Cryptocurrency and Regulation of Official Digital Currency Bill, 2021."
The bill didn't say much, except that it seeks to ban all "private cryptocurrencies", save for certain unnamed exceptions ("to promote the underlying technology of cryptocurrency and its uses"), and introduce a framework for a central bank digital currency (CBDC).
That fuelled much anxiety in the Indian crypto industry. The exceptions in the draft bill were only granted to blockchain technology while remaining hawkish on cryptocurrencies.
As Decrypt  reported last month, following the announcement of the draft bill, several leading industry leaders coordinated efforts to fight off a total ban and push instead for a regulatory approach. Sitharaman's statement yesterday was pretty much what the industry had hoped for, they told Decrypt.
Crypto ban no more?
Nischal Shetty, CEO of crypto exchange WazirX, told Decrypt that the Indian crypto industry sees this as the clearest sign yet that the government will not go ahead with a blanket ban on cryptocurrencies as previously feared.
I think @nsitharaman just won the entire Crypto sector in India with this clarity she's given

India is going to take a calibrated view on Crypto

People of India, get ready to innovate and win.

Crypto Innovation: Here we come #IndiaWantsCrypto https://t.co/4wFIPPFHOd

— Nischal (WazirX) (@NischalShetty) March 5, 2021
"It's amazing news for the Indian crypto industry," he told Decrypt. "Our finance minister has now made it clear that India will not be banning crypto."
For Shetty and others in the crypto industry campaigning against a ban, the next step is now to get the government to involve the crypto industry in policy-making. "This will help formulate the right crypto regulations in India," he said.
Why has the government cooled its tone?
Sidharth Sogani, CEO of the Indian crypto intelligence firm CREBACO, told Decrypt that it's the industry's persistent dialogue with the government that has prevented a blanket ban.
Sogani, who also heads the industry pressure group, the Association for Blockchain, Crypto, and Digital Asset Entrepreneurs (ABCE), knew there wasn't going to be an all-out restriction as the government asked "very inquisitive questions", signaling that careful consideration is being paid with a regulatory framework in mind.
As mainstream institutions flock to the crypto space, the Indian government has seen crypto as an unmissable global trend, according to Sohail Merchant, CEO of the Indian crypto exchange PocketBits.
PocketBits is one of the members of the Blockchain and Cryptocurrency Committee (BACC), part of the wider tech industry association Internet and Mobile Association of India (IAMAI). BACC has been campaigning for a regulatory framework instead of an outright ban.
"The Indian government realizes that crypto is being adopted globally by corporations like PayPal, Tesla and top-tier banks," Merchant told Decrypt. He reckons the best-case scenario is that the draft bill is referred to a standing committee to deliberate and modify it in a way that creates a regulatory framework that accommodates what he calls "India's lead in the fintech space."
"The world looks up to us for innovation."
Day 855

Crypto is a $1.5T market. It is poised to grow 10X to $15T in ten years.

If India does not participate then India loses a large market to other countries.

Crypto can help India realise its $5T economy goal.

Let's compete and grow our economy #IndiaWantsCrypto

— Nischal (WazirX) (@NischalShetty) March 5, 2021
But for others in the crypto industry, it is not so much the global influence but rather the logical conclusion of an inward-looking policy platform. Sumit Gupta, CEO and co-founder of CoinDCX, told Decrypt that the "finance minister's statement is a sign of the government's resolve to digitize India and make us Atmanirbhar," referring to Prime Minister Narendra Modi's doctrine of a "self-sufficient India."
We as an industry are engaging with relevant stakeholders on the proposed crypto bill. Leading crypto companies, VCs, and experts have joined hands to build public awareness among policymakers and public about crypto through #IndiaWantsBitcoin campaign https://t.co/3Ly4kcnURi https://t.co/eFDXd4N6Ja

— Sumit Gupta (CoinDCX) (@smtgpt) March 5, 2021
Either part of a global trend or an insular move, the latest announcement is set to calm India crypto's regulatory FUD.
Guide & Tools