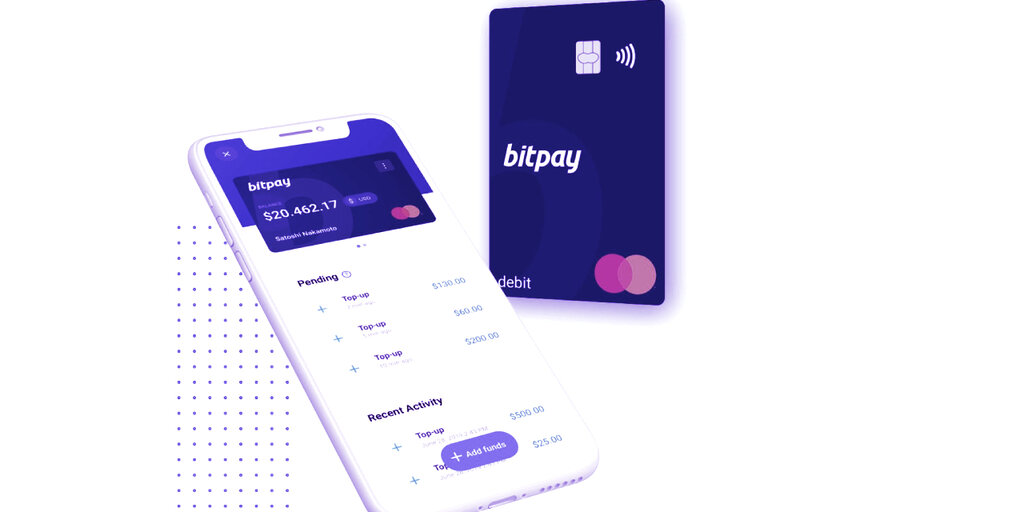 Living entirely off of your Bitcoin stash without dabbling directly in fiat currency might sound like living the dream to crypto fans, but actually spending Bitcoin in the wild isn't always as easy as you'd like.
Not all retailers, online or off, support payment services that include Bitcoin or other crypto functionality, but the tide is gradually shifting on that front.
Case in point: in February 2021, BitPay announced that US cardholders of its prepaid Mastercard—which converts your Bitcoin to fiat currency at the point of sale—can add the card to Apple Pay, thus allowing it to be used for payments on iPhone, Mac, iPad, and Apple Watch. Now you can use Bitcoin and other supported coins to make payments both online and at retailers that accept Apple Pay.
Exciting day for U.S. based BitPay Wallet app users. You can now add your BitPay Card to Apple Pay® to make online and in-store purchases with crypto. #apple #applepay #bitpay #bitcoin #bitpaywallet #bitpaycard #crypto pic.twitter.com/xeu6vM4yEr

— BitPay (@BitPay) February 12, 2021
Using Apple Pay to spend your Bitcoin is easy enough, although getting set up requires a bit of legwork. Here's a step-by-step look at how to do it.
How to apply for a BitPay Card
You'll need to download the BitPay app on your iPhone or iPad to get started. BitPay is a cryptocurrency wallet app, and any funds held within the app are in your own custody—which means if you lose access to the digital wallet within the app, you will not be able to recover the funds.
BitPay provides a 12-word recovery key that you should write down and back up elsewhere in case you need to recover your wallet later.
Once you have the app up and running, you should see the "Get the BitPay Card" banner on the main screen; otherwise you can tap the credit card icon at the bottom of the screen to find it. The signup process includes inputting personal know-your-customer information, such as your social security number, and uploading a photo of a government-issued ID.
If approved, you can go ahead and order the card, which has a $10 fee as of this writing. It takes up to 10 business days to receive your physical card once ordered, but you don't have to wait: the digital card can be used immediately.
How to set BitPay up on Apple Pay
While setting up the BitPay wallet for the first time and applying for the BitPay Card can take a little while, it is thankfully very easy to add the card to your Apple Wallet.
In fact, once you are approved for the prepared Mastercard and your order is complete, the app will prompt you to add the digital card to your Apple Wallet. Once it's in there, it's available to use in Apple Pay, whether you're paying online or in person at contactless payment terminals.
All card and fund management still takes place within the BitPay app. You can reload the card with funds by sending cryptocurrency to your BitPay address from another wallet, or by purchasing it from within the BitPay app.
In addition to Bitcoin, the card also lets you spend Ethereum and Bitcoin Cash, as well as the stablecoins USDC, BUSD, GUSD, and PAX. The BitPay Card can also automatically reload itself when low, should you choose that option and select a payment source.
Where you can use Apple Pay with BitPay
You can use Apple Pay in millions of stores around the world, says the company, along with loads of apps and web stores, in transit apps, on college campuses, and when making donations to some nonprofits. When you go to pay with Apple Pay, the BitPay Card will appear as a payment option, making it easy to spend your Bitcoin and other supported cryptocurrencies.
Of course, you can use Apple Pay within Apple's own stores, apps, and services, whether you're buying apps or games, paying for Apple Music, or buying hardware from the Apple Store. Restaurants such as McDonald's, Starbucks, and Subway all accept Apple Pay, as do retailers like Target, Whole Foods, Costco, Gap, and Walgreens.
Apple has plenty of suggestions for other places to spend your Bitcoin, too.
Guide & Tools