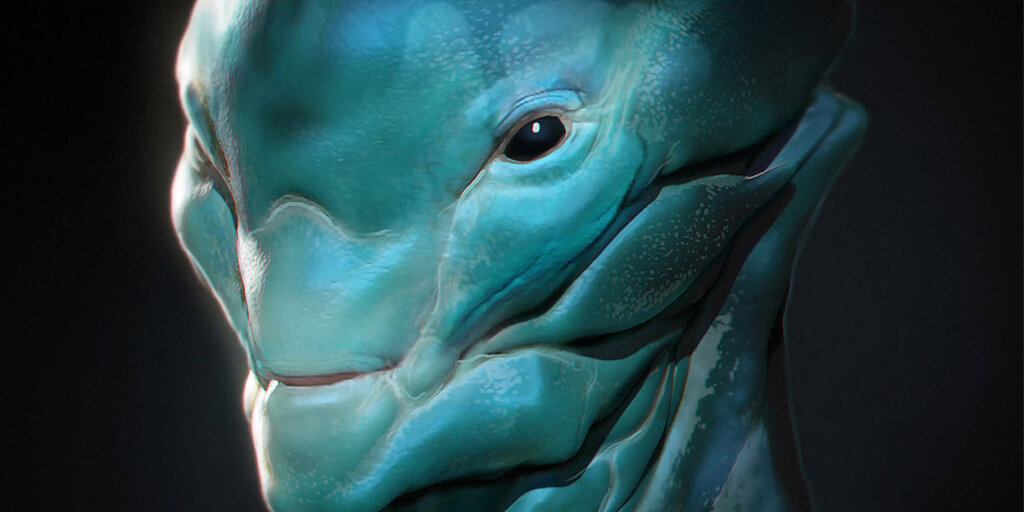 Ben Mauro has worked on many massive entertainment projects during his career as a concept designer and art director. He's been involved in films like the Matt Damon Sci-Fi hit "Elysium," "Valerian and the City of a Thousand Planets," and "The Hobbit," as well as video games including "Call of Duty: Black Ops III" and the upcoming "Halo Infinite."
But while those franchises have spread far and wide, Mauro struggled to find the funds and platform to fully pursue his own personal projects as a digital artist.
Until NFTs, that is.
NFTs, shorthand for non-fungible tokens, are blockchain-based digital tokens (primarily on the Ethereum network) that can represent ownership in just about anything on the internet. They've become increasingly popular in the music and digital art world.
Crypto artwork sold as NFTs has exploded in both attention and money trading hands in 2021, with February's trading volume of $342 million topping all of 2020 combined. Given that March has seen the sale of a single $69 million NFT artwork from Beeple at a Christie's auction and a seemingly unending array of new drop announcements from all around the entertainment industry, there's little sign that momentum is stalling out on the NFT boom.
Mauro has been another one of March's big beneficiaries from the excitement around NFT artwork, as his "Evolution" series dropped via the VIV3 marketplace on the proof-of-stake Flow blockchain. Evolution was released as a digital trading card series, with 21 cards in the first wave, and the entire drop sold out within seven minutes, with more than 2,500 people spending a total of $2 million. Flow is the same blockchain that powers the surging NBA Top Shot, and Evolution took on a similar pack-driven model albeit with much different subject matter and at a limited scale.
Speaking with Decrypt one week after the drop, Mauro was still shocked by the response to his artwork. Mauro said that he was nervous the night before the drop and wasn't certain if there would be demand for the project, a collection of creature illustrations that he had slowly assembled over a decade of his professional career. When the packs dropped and were quickly snapped up, Mauro realized that he would finally have the ability to focus on his own artwork. As Mauro told fans in a video shared after the drop, "You guys really changed my life forever."
"[Artists] have been conditioned over our whole careers just to feel like everything you do is worthless."
"It will just allow me to have a level of freedom in my life that I've never had before. All the years I've been working on other people's stuff, most of that money went into trying to make more cool projects," he explained to Decrypt. "Even when I wasn't making that much [money], I was still trying to make new, cool things. I think this will allow me to do that in a bigger way. That's all I really care about."
2,500+ people from over 10 countries participated in @BenMauro993's EVOLUTION drop this Wednesday on @VIV3com

Selling out within minutes with a total value of $2M, making it one of the most distributed single NFT drops by an artist

A thriving ecosystem awaits you, on Flow  pic.twitter.com/wPs4yuo2sj

— Flow Blockchain (@flow_blockchain) March 5, 2021
Mauro said that digital artists have been waiting for an opportunity like NFTs to monetize their work, and that digital illustrators have struggled with the idea that their original creations have no direct monetary value because of the nature of the medium and the internet. Digital artwork can be shared and copied endlessly with no trustless system to prove authenticity or ownership. "We've been conditioned over our whole careers just to feel like everything you do is worthless," he told Decrypt.
NFTs have changed the conversation, according to Mauro. With the ability to release digital artwork and have it be verifiably scarce and authenticated via blockchain, fans and collectors can now engage directly with artists and fund their digital creations. Not every crypto art NFT release will put up the kind of shocking dollar amount as Mauro's or even someone like Beeple, but at least the possibility is now there for digital artists.
EVOLUTION: An epic NFT event, 10 years in the making! Officially dropping March 3, 3PM GMT/UTC exclusively on @VIV3com powered by @flow_blockchain. #nft #cryptoart #evolution https://t.co/P6hxRsyBce pic.twitter.com/w9q8oj8mcL

— Ben Mauro (@BenMauro993) February 25, 2021
"This is a very big idea that will help every artist in the world and change a lot of artists' lives, I think. It basically solves a problem that we've been having our whole careers with not being able to make any money with our digital creations. It's completely revolutionary to me," said Mauro. "I feel like I've been waiting for this my entire career, and finally technology and art came together in a beautiful way that allows every artist to do this for the first time. It's incredible."
Evolution is likely a precursor to future NFT releases, said Mauro, including further editions or expansions of this project. Mauro, who previously released single-edition NFT artwork pieces before Evolution, said that he's now interacting directly with buyers via Discord and "shaping this thing organically with people who like it." While Evolution was a personal release, Mauro sees the potential for NFTs to benefit the funding and creation of larger-scale projects like the films and games he has worked on in the past. 
"A lot of director friends who are working on their next movie are absolutely thinking like that, instead of having to go to banks or financiers and begging, like, 'Please fund my movie,'" said Mauro. "This is totally a cool way to fundraise or do things like this. I hope it just leads to more unique and original projects, everything from musicians to artists and filmmakers. I feel like it's already starting to happen."
Seeking funding for large entertainment projects can come with compromises and strings attached, Mauro suggested, but he believes that NFTs can help level the playing field and let fans directly fund the projects they want to see while maintaining the creators' vision. Mogul Productions' film financing platform and the Kings of Leon's NFT album release are a couple of early moves in that direction, suggesting that the benefits of blockchain and digital collectibles could have even broader impacts across the entertainment industry.
Guide & Tools