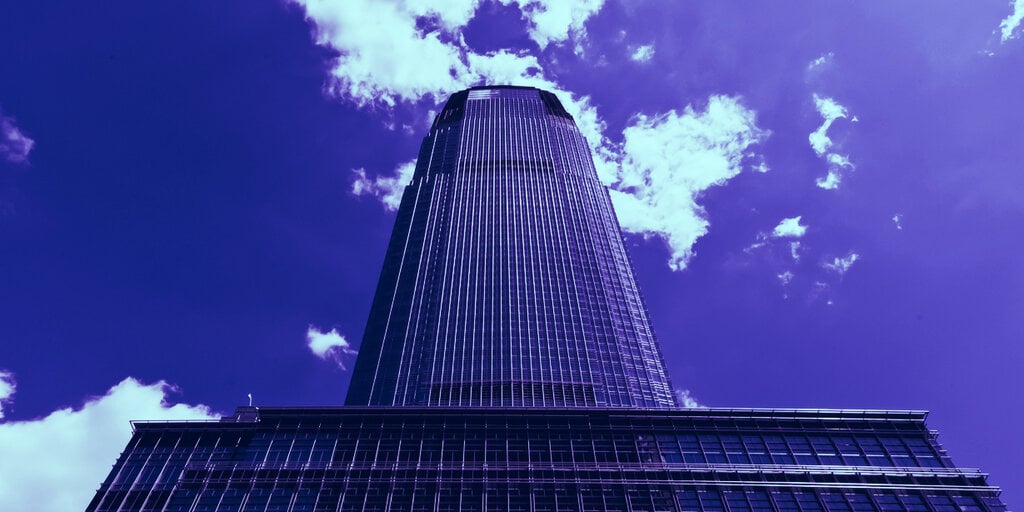 Goldman Sachs, one of the world's biggest banks, has filed an application to the US Securities and Exchange Commission for an investment product that could expose clients—indirectly—to Bitcoin. 
The SEC filing, which details a "linked note" (an income-producing product tied to a security or basket or securities, like an ETF), says that investors could be exposed to "disruptive innovation." 
As the linked note tracks ARK Innovation, an exchange-traded fund (ETF) that is invested in the Grayscale Bitcoin Investment Trust Grayscale, investors could be exposed to the biggest digital asset—but not directly.  
For those who don't know: an ETF allows investors to buy and sell shares continually throughout the day that represent the value of an underlying asset. 
A Bitcoin ETF, which would allow investors to buy shares that represent the digital asset, doesn't exist in the US—yet. Plenty of companies have tried to launch one, including investment giant Fidelity, which just filed its application today. The SEC has been reluctant to approve these products in the past, however, citing concerns over manipulation of the Bitcoin market.
But Bitcoin ETFs do exist elsewhere—in Canada (where they've been a huge success) and Bermuda. 
Goldman's filing, dated March 19, isn't for an ETF, but a product that would track an ETF exposed to Bitcoin shares. 
And it's another way Goldman Sachs is showing interest in Bitcoin. 
The bank was previously skeptical about the coin. Last year, it denied Bitcoin was an asset class. But it has since said it will start trading Bitcoin futures, reopening its cryptocurrency trading desk after abruptly shutting it down in 2018.
Bloomberg ETF analyst, Eric BalchunasIt, told Decrypt that Goldman's new Bitcoin-linked product is "like a side bet for its bigger institutional clients." 
"It has all kinds of different parts to the bet but it all involves riffing off the price of ARKK, hence the word 'ETF' in there," he said. 
Goldman out with an $ARKK structured note, must be real demand for these.. https://t.co/Fvs6sVCLg4 pic.twitter.com/HoBUeEoZhv

— Eric Balchunas (@EricBalchunas) March 24, 2021
As the SEC filing says: "The ETF may have exposure to cryptocurrency, such as Bitcoin, indirectly through an investment in a grantor trust. The ETF's exposure to cryptocurrency may change over time and, accordingly, such exposure may not always be represented in the ETF's portfolio."
Goldman Sachs did not immediately respond to Decrypt's request for comment.
Guide & Tools