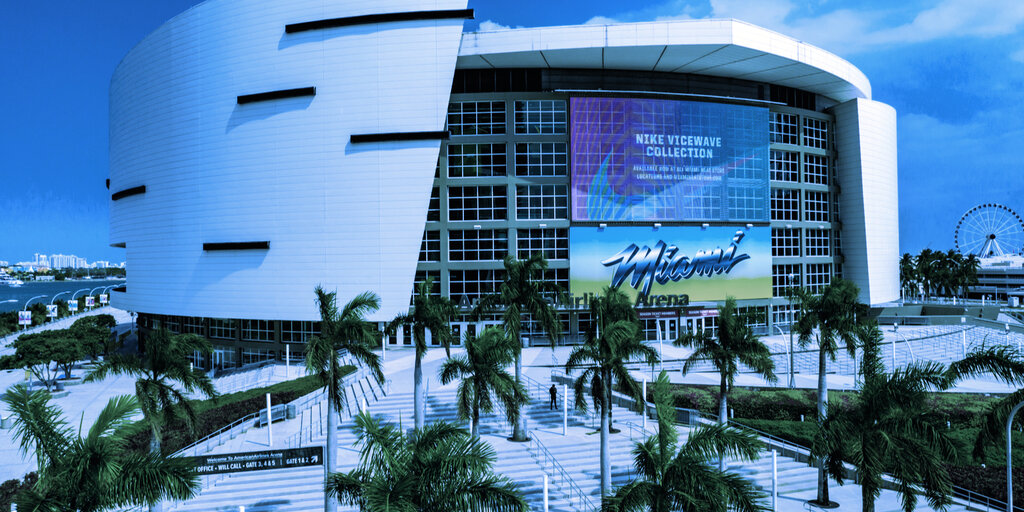 Hong Kong-based crypto exchange FTX is reportedly in negotiations with Florida's Miami-Dade County authorities over a sponsorship deal to rename the stadium home to the basketball team Miami Heat, according to an article Friday by the Miami Herald, which cited unnamed sources.
The basketball arena is named after its sponsor since 1999, American Airlines. If the sponsorship talks are successful, the stadium would change its name to FTX Arena, reported the Miami Herald.
FTX CEO Bankman-Fried responded to Coindesk's inquiry about the potential sponsorship deal with the curious eyes emoji

. He declined to comment to Decrypt. Miami Heat could not be reached by press time.
The domain name ftxarena.com is already registered by an unidentified party, according to the Miami Herald. That could mean that FTX is close to a deal...or that someone sniped them on the deal to make money on the domain names.
NBA and Crypto: A History
The intersection between crypto and basketball isn't new-—in fact, it's booming, almost exclusively thanks to NBA Top Shot, a crypto collectibles trading card game.
As Decrypt's Editor-in-Chief, Daniel Roberts recently explained, the NBA is so successful with NFTs because it is an incredibly Internet-savvy sports league.
That allows NBA to sell high-worth tokens via a collectors' site called Top Shot, run by Dapper Labs, the company that created CryptoKitties, a cute collection of expensive NFT cats that were popular in 2017.
The company's sponsorship interest in a physical basketball arena could come off the back of the NFT craze. After all, Miami Heat's shooting guard Tyler Herro is one of the NBA players most actively associated with NFTs.
#ad @nba_topshot is the newest way to get in on the NBA action. Buy, sell, trade, collect. Check it out, including my exclusive Special Edition, here: https://t.co/hR5W5Rq0gp pic.twitter.com/MaytJDTIjk

— Tyler Herro (@raf_tyler) December 19, 2020
The views and opinions expressed by the author are for informational purposes only and do not constitute financial, investment, or other advice.
Guide & Tools