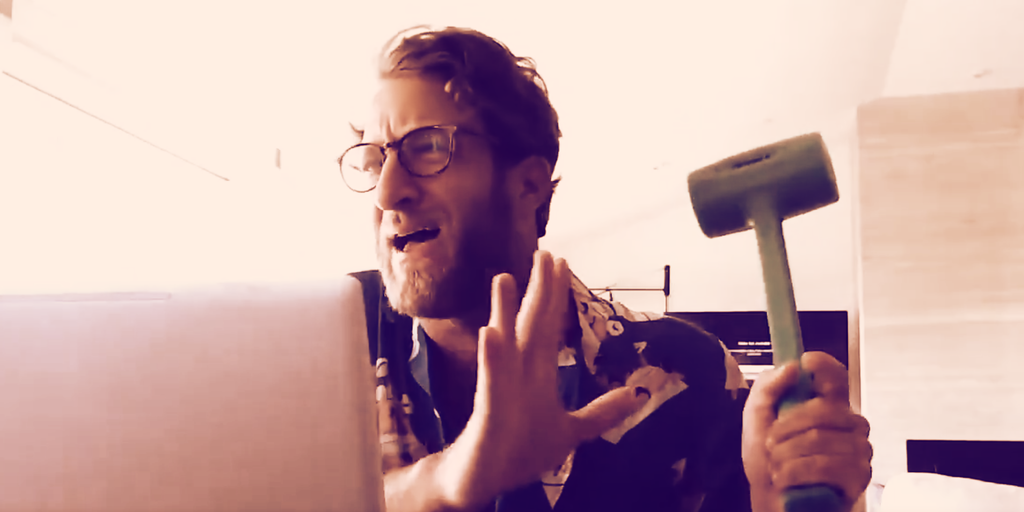 Barstool Sports founder and president Dave Portnoy, who rebranded himself as stocks expert "Davey Day Trader" during the COVID-19 pandemic, bought $1 million worth of Bitcoin last August when the price was at $11,500. Then he sold it in a panic two weeks later when it dropped. He lost $25,000.
Now Bitcoin is above $60,000, and Portnoy said in a Saturday night Twitter video that he "fucked up bitcoin." Portnoy says, in hindsight, that he "paper-handed" his Bitcoin—a social media term on forums like WallStreetBets for someone who nervously exits their position, rather than holding on with "diamond hands."
"I want to congratulate all my bitcoin people out there," Portnoy said in the video. "When you're wrong, you're wrong. I fucking paper-handed, sold it. I fucking can't take bitcoin, the ups and downs. I wish I had it. I took all my money and I put it in what I think I know, and what I can control. I don't know bitcoin. I fucked up."
Emergency Press Conference - I Fucked Up Bitcoin pic.twitter.com/wJcRTMn5do

— Dave Portnoy (@stoolpresidente) March 13, 2021
What Portnoy thinks he "knows" is stocks—he famously made big returns by buying airline stocks early in the pandemic when they had dropped big, before they later surged back.
Had Portnoy held on to his bitcoin, his $1 million stake would have been worth around $5 million.
Portnoy also has heavy holdings in Penn National Gaming (PENN), the betting company that acquired a majority stake in Barstool Sports in January 2020 and has launched Barstool-branded sportsbook apps in Pennsylvania and Illinois.
Penn hit a new all-time-high this past week, and just four minutes after tweeting his Bitcoin video, Portnoy tweeted a chart showing that Penn stock is up even more than Bitcoin over the past 12 months: 2,787% vs 966%.
"On Second Thought I Guess I Did Okay Sticking With What I Know This Year," Portnoy wrote, adding the hashtag #DiamondHands.
Guide & Tools