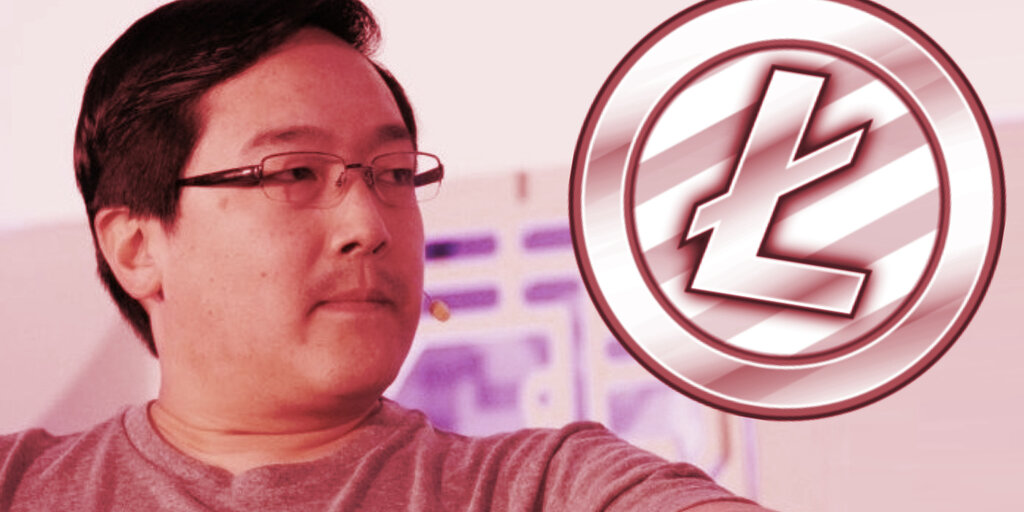 When Litecoin (LTC) broke through the $200 barrier last weekend, for the first time since March 2018, it sparked jubilation among LTC holders—as you might expect. But one man, who sold all his Litecoin in December 2017, was just as overjoyed.
For three long years, Charlie Lee, Litecoin's 34-year-old founder, has faced vocal criticism from some in the cryptocurrency's community for cashing out near the peak. It's been a regular background noise in his life, as LTC (alongside other cryptocurrencies) endured a lengthy crypto winter. 
Litecoin hits $200! pic.twitter.com/NoXjLNT58l

— litecoin (@litecoin) February 13, 2021
Now that the world's eighth-biggest cryptocurrency is finally reliving its former glories (though it has yet to surpass its all-time high of around $360), Decrypt sat down with Lee to talk about the project's upcoming privacy upgrade; his buying and selling strategies, and Litecoin's prospects in the coming months.
Barks from the bridge
Lee is one of the most famous figures in the cryptocurrency industry. Seated against a dramatic background, he appeared to be on the bridge of Darth Vader's ship from Star Wars. Only his Labradoodle's occasional barks belied the fact that he was actually speaking with Decrypt on a Zoom call from his home in San Francisco.
He comes across as friendly but serious; an eager but patient teacher—practiced in explaining Litecoin's advantages, including its zero downtime and security features, and excited about the upcoming MimbleWimble Extension Blocks (MWEB) upgrade, which will give the cryptocurrency privacy advantages.
Lee was born in the Ivory Coast and educated in the States from the age of 13. He's an MIT graduate, as well as a veteran of Google and crypto exchange Coinbase. 
Lee is an enthusiastic hockey player and has played in a Bay-Area league for twenty years.
He thought up Litecoin in 2011—forking the Bitcoin blockchain to create the "Lite version of Bitcoin," a cryptocurrency that adopts many of its parent's key features, but seeks to improve on it with a larger supply, faster transaction times, and lower fees.  
"I didn't really expect anything of it," he recalled. But, as Litecoin approaches its tenth anniversary in October, its market cap is now almost $15 billion—and plenty of people believe its high liquidity, availability on exchanges, and longevity invite comparisons with only Bitcoin itself. 
"It's stood the test of time," said Lee. Among the challenges it's faced over the years, one, in particular, stands out: its founder cashing out in December 2017.
Selling out
Lee's primary reason for selling almost all his LTC in December 2017 was conflict of interest. Focusing on adoption and success, not price, is what interests him, he said. 
"Elon Musk is paid to increase the share price of Tesla, whereas my purpose is to increase adoption and make Litecoin successful—which is aligned with the price but it's not exactly the same," he explained.
"
Elon Musk is paid to increase the share price of Tesla, whereas my purpose is to increase [Litecoin] adoption
."
But his motivations were misunderstood, and people compared him to a normal CEO—paid in shares.
"I bought my own shares," he said and added that the amount of LTC was, in any case, nowhere near what someone like Musk holds in Tesla. So claims that his cashing out could influence the price of LTC ; that he had insider information, and even that he crashed the entire crypto market, were "ridiculous," he said.
"People always say I sold at the all-time high, but that's far from the truth. I sold on the way up. My average price was $200," he said.
He added that he'd made a public announcement, which gave people the opportunity to sell if they were unhappy, and that despite that, the price of Litecoin remained high for a week.
But a lot of people thought he must have quit, with no incentive to work on Litecoin anymore. In fact, it's just the opposite: "The success of Litecoin incentivizes me more than anything," he insisted. 
Litecoin and Mimblewimble
Right now, Lee is most excited by the prospect of privacy features coming to Litecoin.
The project's imminent MWEB upgrade will give it so-called "fungibility," where one coin is indistinguishable from another. 
"This is what makes money powerful because every coin or any bill is the same—it's fungible. Currently, that's not the case with Litecoin and Bitcoin," said Lee.
Fungibility is the only property of sound money that is missing from Bitcoin & Litecoin. Now that the scaling debate is behind us, the next battleground will be on fungibility and privacy.

I am now focused on making Litecoin more fungible by adding Confidential Transactions.

— Charlie Lee [LTC] (@SatoshiLite) January 28, 2019
 The use of increasingly sophisticated analytics (and the fact that transactions are recorded on a public blockchain) means that these cryptocurrencies, and most others, can be tracked. Not only can they be linked to dark markets—which risks the account owner being banned—but the lack of privacy makes for bad financial etiquette: 
"If you buy 10 Bitcoin from an exchange and then give a small amount—like $10—to your friend, [then] your friend can see that you have $300,000 in your bank account." (When our interview took place, in January, BTC was at $30,000).
To remedy this kind of situation, the project is introducing experimental new privacy features, based on privacy technology MimbleWimble (which takes its unusual name from Harry Potter). 
To introduce the new code, the blockchain will need a soft fork—and how fast that happens depends on how fast the miners are ready for it, said Lee. "It could be a month. It could take up to a year.".
A testnet was launched last September, and the initial code for integration with the mainchain will be complete and ready for review on March 15. 
"It's kind of like a side chain—something that's attached to the main chain," said Lee. "You can move coins from the Litecoin mainchain, which is still the transparent blockchain, to the M-Chain." Amounts are hidden, and transactions on the chain are more private, he explained.
A conservative approach
In recent months, privacy coins and identity-obscuring tools have appeared on the regulators' radar. A report published in October last year by the US Attorney General's Cyber Digital Task Force outlined a new regulatory framework, and labeled anonymous transactions "high-risk activity indicative of possible criminal conduct." 
Subsequently, lawyers have warned that new restrictions would put pressure on exchanges that offer privacy coins—such as Monero and Grin—to consider whether it's still possible to comply with anti-money-laundering obligations. And some Litecoin investors have balked at the risk of LTC being delisted due to harsher regulations. 
Lee is unperturbed. The upgrade will not make Litecoin a privacy coin; MWEB is an optional feature, it's entirely reversible, and exchanges don't see any issue with compliance or falling afoul of regulations with this upgrade, he said.
"We're taking this very conservatively," he emphasized. "We don't want this to hurt; we want to still be on all the exchanges to have high liquidity." 
"Bitcoin and Litecoin, in my opinion, can work with regulation."
But, like many, he thinks regulation is inevitable and necessary for cryptocurrencies to succeed. "Bitcoin and Litecoin, in my opinion, can work with regulation," he said. "There might be more crackdowns, and regulation might be tougher on crypto-fiat on-ramps and off-ramps, but I don't think you'll ever get to a point like banning cryptocurrency. I think we're past that point now."
I think it's good. Cryptocurrency needs to be integrated with the current financial systems. So you can't not have the government involved. It's important for us to work with the regulators to make it easy for people to access cryptocurrencies. Just don't ban it! #blockchainchat

— Charlie Lee [LTC] (@SatoshiLite) May 17, 2018
Should more stringent regulations on privacy be introduced, Lee said he would first turn to the community before taking any action. He conceded that it might be controversial, with some members of the community committed to pushing for privacy even if it drives LTC onto illicit exchanges, some arguing that Litecoin shouldn't care what the regulators think and others wanting to play it safe.
Some would argue that the latter includes Lee himself, despite his enthusiasm for MWEB. "One of the best features of Litecoin is liquidity," he said. "We shouldn't hurt that no matter what."
Guide & Tools