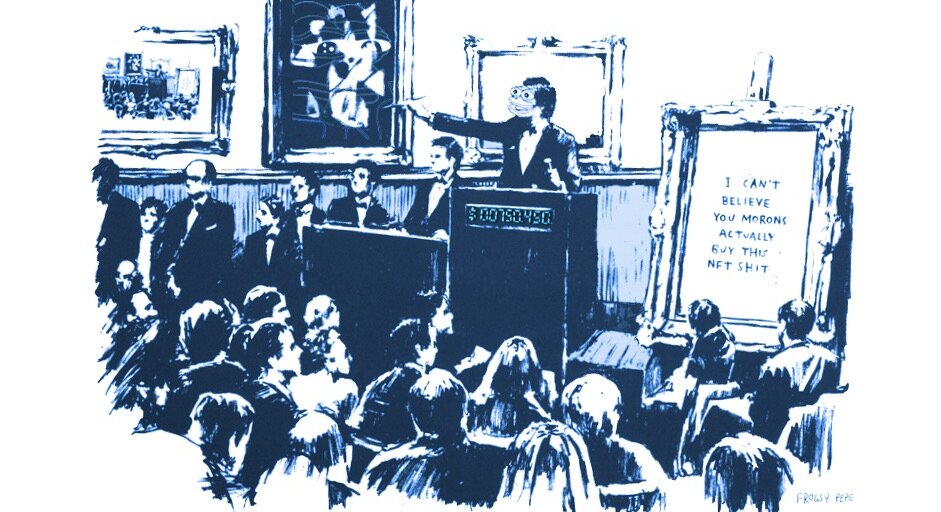 When artworks in the distinctive style of British street artist Banksy appeared on non-fungible token marketplaces OpenSea and Rarible earlier this month, collectors couldn't resist, and the art netted almost a million dollars.
I either just blew $750 or got the deal of lifetime on a Banksy... we shall see.https://t.co/YSMULcspgY? #rarible #ethereum #nonfungible #digitalasset #nft via @rariblecom

— OnTheBrink (@Brinkster0x) February 19, 2021
But the artworks weren't by Banksy at all. 
When that became apparent, OpenSea, the oldest (it was established in 2017) and biggest non-fungible token (NFT) marketplace, blocked "Pest Supply," the account associated with the art. 
NFTs are meant to be immutable and uncensorable, so it was a controversial decision—perhaps even a watershed moment for the NFT sector, which has seen art sales grow by 2,800% to over $150 million this year. 
Artists, collectors, and researchers are now questioning whether the fledgeling industry should have any gatekeepers—even though crypto is by its nature a world without gatekeepers. Others have asked: how else can we inspire trust? Many saw it as a sign that the NFT boom had already reached its peak.
NFTs and "appropriated art"
The marriage of cutting-edge tech with inspired digital artwork, ephemera and memes has drawn investors and collectors to NFT marketplaces, where they've spent eye-watering amounts on digital works such as Nyan Cat, an animated feline with a Pop-Tart body, which was sold by its creator for around $580,000 on Thursday.
12/ As for the question, "Why the heck would someone pay over half-a-million dollars for a poptart cat?"

for the same reason someone would spend $1.4 million on a piece of shredded Banksy art

beauty is in the eye of the beholder, and someone rich wanted to own it pic.twitter.com/Q1KSjHshCh

— Morning Brew (@MorningBrew) February 23, 2021
Much of NFTs' attraction lies in their ability to turn digital assets into something scarce and valuable—much like the real art world. But in traditional art markets, artists' works are authenticated and verified, as a matter of course. And many would argue that decentralizing art—or any other industry—doesn't have to mean there should be no gatekeepers. 
Notably, the fact that Pest Supply was not Banksy only came to light when someone thought to contact the real Banksy's verification studio, Pest Control, who denied any affiliation with "Pest Supply" and their work. 
But not before Pest Supply made a great deal of money. The artist's largest sale was a spin on the Banksy print, "I can't believe you morons actually buy this shit," from 2007. Pest Supply's version was titled "NFT Morons," and sold for 60 ETH. Their account records showed hundreds of sales—a total of 512 ETH, per wallet profiler Nansen, and nearly 430 ETH was sent to a secondary address. 
Pest Supply is still listed on Rarible. Decrypt will update if the marketplace responds to our request for a statement. But the artist clearly got a message from them, which he's posted publicly. 
Nevertheless, many people were less than happy about OpenSea's decision to block the artist's work.
"I'm obvi [sic] still learning about NFT's. I guess they're not immutable & uncensorable, eh?" said one Twitter account.
Others, many of them artists, were outraged. 
The main source of their disquiet was OpenSea's lack of explanation, particularly when there is plenty of artistic precedent for what's known as "appropriated art." 
In fact, when a work is appropriated, the concept may even make it more valuable in the idiosyncratic realm of fine art. Elaine Sturtevant's Lichtenstein Frighten Girl sold for more than the original Lichtenstein. For more on appropriation art, see here.
And Pet Supply's Rarible page now gives a further clue that the artist is not associated with Banksy: "Blocked by decentralized OpenSea as they have no idea who Elaine Sturtevant is and know nothing about art history. This is art history in making," it reads.
"[I am] questioning the legitimacy of NFT art while using the art as a valuable test to test people's perception of value, all done without mentioning a single word about Banksy or Pest Control," the artist told The Art Newspaper. 
How to protect artists' and buyers' rights? 
OpenSea did not respond to Decrypt's request for comment, but Sam Williams, CEO of Arweave, a blockchain used by OpenSea and other marketplaces to prove ownership, told Decrypt that OpenSea has the right to ban anyone it wants. "It's their platform, operated by their rules. Agreeing to this is the social contract we make when we use centralized web services," he said. 
He warns that there's also a danger to collectors or investors when NFT contracts and assets are stored separately, which could create multiple claimants for one asset, something "like a home with multiple valid property deeds." (Arweave has a solution, which it calls "atomic crypto art," and offers permanent decentralized storage. )
Artists' rights must be protected in order for this space to thrive.
The industry has grown at such staggering speed that most NFT projects "have not as yet opted for a full 'on chain' approach," Eddy Travia, cofounder and CEO of publicly listed Coinsilium, a UK-based blockchain venture operator, told Decrypt. That puts the onus on centralized parties, such as OpenSea, to monitor the work, he explained. 
But, newer marketplaces, such as Minty.Art, have opted to implement a strictly curated artist selection process from the start, And, in future, "the combination of new on-chain tools and expert human assessment/oversight should help establish trust in NFTs," said Travia. "I don't believe that digital art exists in a legal vacuum; artists' rights must be protected in order for this space to thrive."
Perhaps most notable is the fact that NFT aficionados who bought the fake Banksys appear undeterred. 
Open sea pulled the Banksy NFTs: either we just bought the first NFT forgeries (cha Ching) or we are witnessing a Banksy stunt. Either way, people who bought just won. pic.twitter.com/9b5DdbrRpf

— Jonathan walsh (@WalshofWallst) February 20, 2021
The first NFT forgeries are bound to have value, tweeted one collector, theorizing that when something harder to buy its worth more. (But that only works if people want to buy it.)
However, there's something about the idea of appropriated art, the fact that not even the original artist can be the sole owner of an idea, or work of art, that sits quite comfortably with a decentralized NFT market managed by its creators. And, already, more copycat art has hit the markets. 
A new account "Pest Service," once again mimicking Banksy's distinctive graffiti-stencil style, went up on OpenSea on Thursday. And hasn't yet been removed. 
"Laugh Now," a seminal Banksy work, portrays a monkey, wearing a sandwich board that says: "Laugh now, but one day we'll be in charge." 
Pest Supply had his own take on that one too. Per the NFT artist: "Laugh now, but one day no-one will be in charge."
Guide & Tools