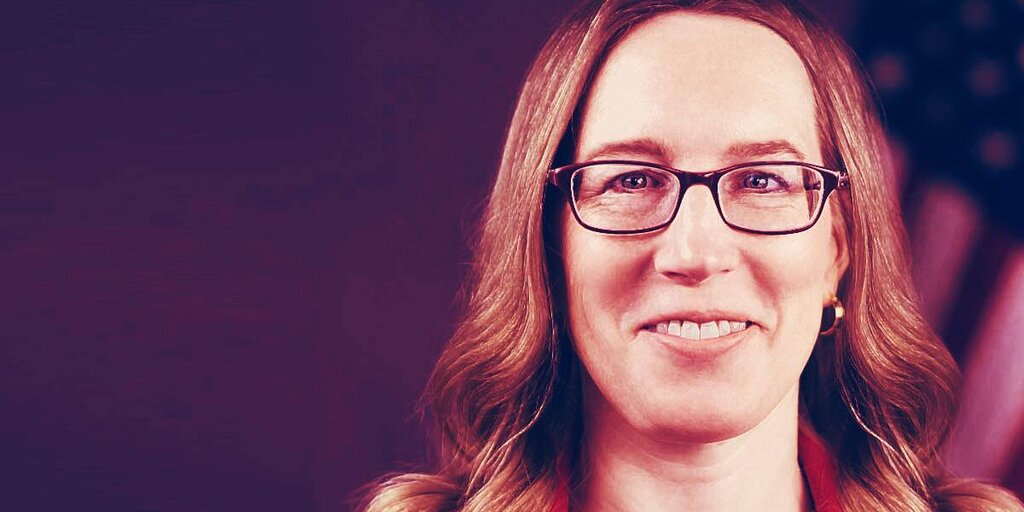 Hester Peirce, the US Securities and Exchange commissioner affectionately referred to as "Crypto Mom" for her favorable stance towards crypto, said that BNY Mellon's crypto plans make it more pressing for US regulators to take action and bring more regulatory clarity. Crypto industry leaders who spoke to Decrypt agree that more clarity is desperately needed for the further uptake of digital assets.
BNY Mellon, the investment bank that manages $2 trillion worth of assets, announced earlier this week that it would add crypto to its asset-management services. Referring to BNY Mellon's announcement, Hester Peirce told Reuters that this "adds to the urgency of us taking some sort of action in this area to provide more clarity."
Andrew Kessler, CTO and co-founder of the blockchain-based peer-to-peer trade company Zenotta, told Decrypt that BNY Mellon's decision was significant for custody service providers, "but the lack of regulatory clarity meant that this would be unlikely to spur much uptake of digital assets."
Doesn't get more institutional than this...

Bank of New York Mellon, America's oldest bank, plans to eventually treat #Bitcoin and other cryptocurrencies like any other asset.

"Digital assets are becoming part of the mainstream." --BNY Mellonhttps://t.co/PYyowFhSuj

— Steven Russolillo (@srussolillo) February 11, 2021
Peirce's agency, the SEC, has harpooned several large crypto projects for distributing, it claimed, securities in unregistered sales. When regulations become clearer, he said, interest in Bitcoin should spike. "We will see much FOMO among other US banks who will rush fast-track their digital asset roadmaps."
Guy Hirsch, US Managing Director at eToro, told Decrypt that better infrastructure and regulatory clarity have been two barriers for many institutions to start investing in Bitcoin. "The OCC's statement last year that nationally chartered banks can custody crypto provided that clarity," he said, "and it was only a matter of time before a large bank made this kind of announcement." 
Call to action 
Peirce's recent call, if turned into action, would continue that policy trend towards more clarity, providing assurance to institutions mindful of potential regulatory risks. Peirce has long called for a kind of "regulatory safe harbor" for decentralized finance projects that would provide them with a few years to get everything together before the SEC comes after them for securities fraud. 
But nothing yet; the US government is slow when it comes to crypto. However, a new administration could breathe new blood into the SEC. "It's not only that there have been calls for clarity for some time and that a new administration brings the chance to take a fresh look," said Peirce, "but it also is a moment where it seems others in the marketplace are also taking a fresh look."
New guidance on custody of digital asset securities. Baby steps: https://t.co/o8TcKMlDGp pic.twitter.com/7qzDXl49uv

— Hester Peirce (@HesterPeirce) December 23, 2020
Peirce is one among many in the machinery of government, of which she does not have a high opinion—"Regulators have not done a great job," she told Decrypt in early September, referring to the US regulatory attitude toward crypto.
Thanks for the mention, but I look forward to the day when the top 100 people in blockchain doesn't include any regulators: https://t.co/geYdlyVy4T

— Hester Peirce (@HesterPeirce) February 8, 2021
In her crypto-friendly stance, Peirce may be sticking her neck out. "Bureaucracy is difficult," she told Decrypt in that previous interview, "It's really hard to get anything done." 
Hope on the horizon 
But that may be changing soon.
"Regulatory barriers seem to be rapidly declining in all jurisdictions—even in the US, which has historically lagged behind Europe until only recently," Seamus Donoghue, VP Sales & Business Development at METACO told Decrypt.
"Even the most staid conservative firms now feel comfortable with the regulatory clarity to get involved with crypto markets."
Industry leaders who spoke to Decrypt yesterday highlighted the significance of BNY Mellon decision, adding that this development must be matched with a supportive approach from the crypto industry, such as "ramping up its compliance and risk monitoring programs, reducing market manipulation and continuing to raise customer protection standards," as Asaf Meir, CEO at cross-exchange risk monitoring platform Solidus Labs, told Decrypt.
The crypto industry will therefore have to work together with policy-makers in Washington—not just the New York's finance establishment.
Guide & Tools