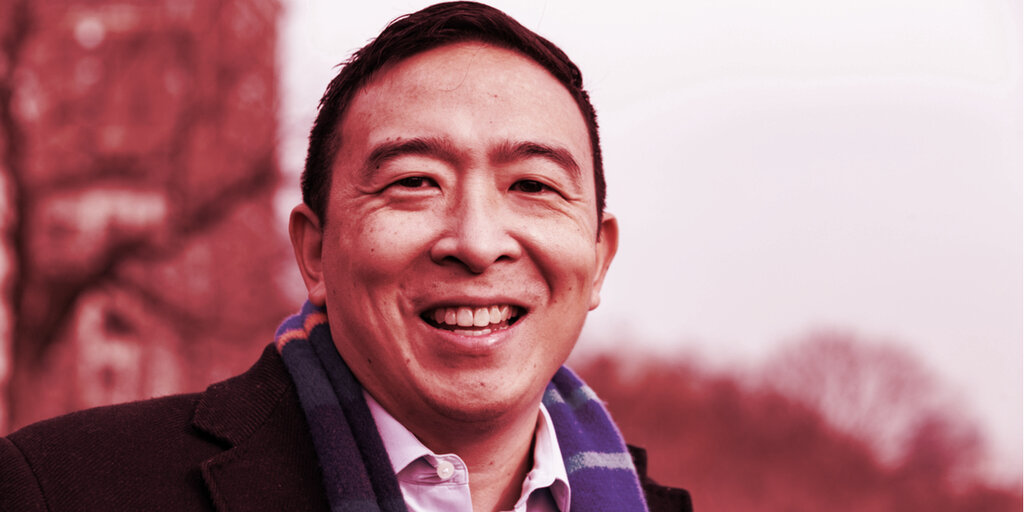 Former Democratic presidential candidate Andrew Yang is the frontrunner to become New York City mayor. And after receiving some solid polling numbers yesterday, the entrepreneur is laying out more of his vision.
It involves Bitcoin.
"As mayor of NYC—the world's financial capital—I would invest in making the city a hub for BTC and other cryptocurrencies," he wrote today.
As mayor of NYC - the world's financial capital - I would invest in making the city a hub for BTC and other cryptocurrencies.

— Andrew Yang (@AndrewYang) February 11, 2021
The statement comes as several US mayors are looking to attract more cryptocurrency activity. Miami Mayor Francis Suarez, who is crafting a proposal to buy Bitcoin for the city's balance sheet, has been wooing cryptocurrency exchange and mining executives in a bid to make Miami a crypto hotspot. 
Reno, Nevada, mayor Hillary Schieve is also looking to bring crypto talent to her city, as well as incorporate smart contracts into municipal functions. Last month, she outed herself as a Link Marine (a supporter of blockchain oracle network Chainlink), and she told Crypto Breakdown she'd like Reno to be a "test market" for cryptocurrency.
I am sensing some competition @Mayorsuarez

Don't worry all of us $LINK marines are here to welcome you aboard in Reno! @AndrewYang @FrancisSuarez https://t.co/T8FjlFtlJC

— Mayor Hillary Schieve (@MayorSchieve) February 12, 2021
However, Nevada and Florida provide much different financial and regulatory environments for crypto firms to operate in. Neither have state income taxes, for example, instead relying on other revenue streams. Nevada has also been making a play for tech and crypto companies; the governor has drafted legislation that would allow larger firms to form their own local governments. 
And neither has the BitLicense, a controversial set of regulations that has limited how many cryptocurrency firms quality to operate in New York state. While companies such as Gemini have chosen to play nice with the New York Department of Financial Services (NYDFS), others, such as crypto platform ShapeShift, have left town.
As a city mayor, Yang would have no real control over a state agency like the NYDFS, but New York City isn't your average municipality. The state ultimately benefits from the financial activity generated by the United States' largest city. He may be able to get something done.
Besides, this is hardly Yang's most aspirational policy proposal. He's still pushing a universal basic income, for example. 
Maybe he can get the city to pay it in Bitcoin.
Guide & Tools