Top Digital Info Product Reviews Find the best online forex guides and softwares Click Here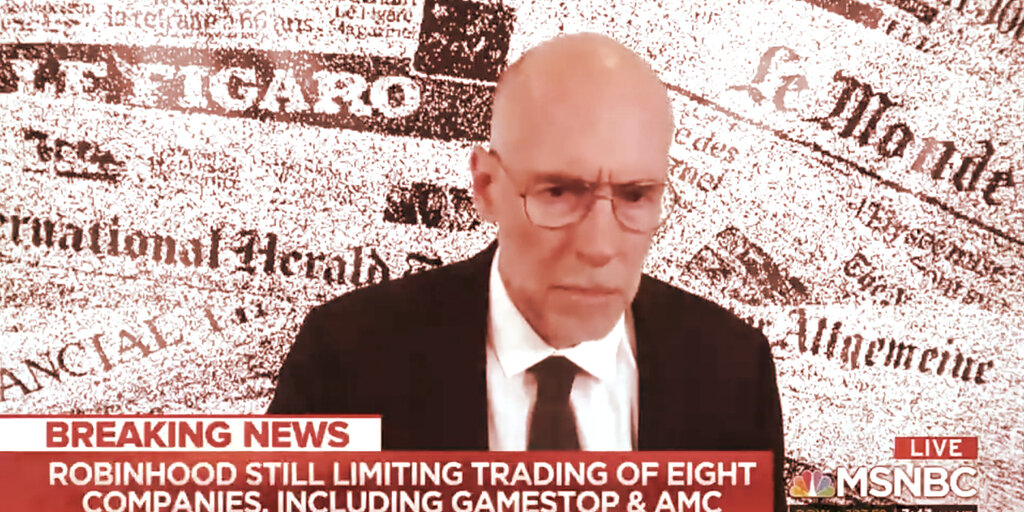 In an MSNBC segment on last week's panic around GameStop and AMC stock, Scott Galloway, a professor of marketing at NYU Stern, offered some words of advice for the "young men" who may find themselves tumbling down the day trading rabbit hole.
"The biggest loss of capital here will be the human capital of young men who are sitting and staring at their phone, and watching the price of Bitcoin and the price of AMC," said Galloway. 
"And ask yourself, would you be better off taking that one, two, or three hours a day and working out, trying to form relationships with mentors, romantic relationships, [relationships] with people at work, getting great at something so you can be the person on the other side of the trade?"
dude wut pic.twitter.com/gQ1DJAqCzU

— Andrew Lawrence (@ndrew_lawrence) February 1, 2021
There is, needless to say, a lot going on here.
Galloway has been pushing this narrative about "young men" since last week, when he tweeted that "young men not having (enough) sex" were at fault for the GameStop fiasco.
What happened here (i.e., GMS)?

--It's about sex...
--Specifically, young men not having (enough) sex
--Sex leads to relationships, obligations and guardrails (don't get in fights, we need you. Don't gamble your paycheck, we need to save for a house)

— Scott Galloway (@profgalloway) January 27, 2021
Whether men were actually the primary drivers behind Reddit's push to squeeze institutional short sellers out of their positions in companies like GameStop and AMC is probably not an unfair assumption, though an opinion piece in the Washington Post responds to Galloway's claim with a reminder that women were trading last week, too.
Galloway's thread also attempts to make a connection between stimulus checks and market volatility—something wealthier investors have been insinuating since last week.
He expanded on the crux of his argument in an interview with New York Magazine last week: "I think if people were going out more, dating more, working more, they wouldn't need to hit the dopamine bag that is Robinhood. It's reckless and I think there's going to be a lot of tears, a lot of really depressed young men coming out of this." 
The effects of reckless trading on mental health are something Robinhood faced last year, as a 20-year-old customer committed suicide after a string of investments gone wrong.
But after last week, there may be as many "tears" from institutional investors as from Reddit-inspired day traders: Melvin Capital, one of the hedge funds forced to close out its shorts in the rally, has already dropped over 50%.
Top Digital Info Product Reviews Find the best online forex guides and softwares Click Here