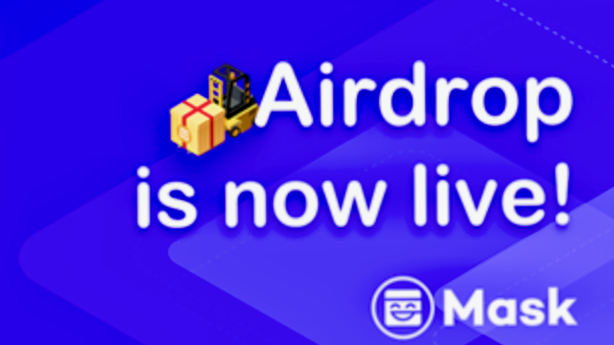 First came its novel "Initial Twitter Offering." Now comes the airdrop: Mask Network, a browser extension that creates an easy-to-use bridge between Web 3 technologies and Twitter and Facebook, is giving away nearly $30 million in tokens starting at UTC +8 (7 PM EST today and 11 AM Beijing time February 27.).
Airdropping free tokens is a unique phenomenon of a bull market. Many projects use token drops to reward early adopters while also defending their market share. The grandest token drop thus far is believed to be when Uniswap distributed around 100 million tokens in 2020 after its rival SushiSwap started to challenge the OG DEX's market position. 
But that record might have been challenged February 21 when Mask, a web3.0 protocol that allows users to send encrypted messages and trade tokens directly on social media, launched what it drolly called an Initial Twitter Offering. The "ITO," which rolled out in three rounds to accommodate investors from all timezones, sold 3% of the $MASK coins it holds in reserve. According to Suji Yan, founder of Mask Network, the ITO sold out, raising nearly $3 million.
The run up to the token launch also generated an unusual amount of buzz. Mask's Telegram account practically exploded with a torrent of new participants flooding in. So many investors rushed to purchase their tokens on Twitter that it crashed Mask Network's Ethereum RPC provider QuikNode. Its Liquidity Bootstrapping Pool on Balancer—a mechanism that allows tokens to discover their fair market price—shot up from $3 to $13. Typically, LBP price discovery tends to move downward to find its market price. 
Even Mask's Medium account was just suspended due to "abnormal traffic," Yan told Decrypt. 
The  token-drop program is intended to reward early adopters of the decentralized web. Yan said a total of 1.86 million $MASK will be dropped to 16,8000 addresses. At the time of this writing, the airdrop would be worth $28 million. 
Note that eligibility is limited to the following people: 
Donors to Mask's Gitcoin grants (before 01/01/2021). The more one donated, the more $MASK one will receive. 

Voters who participated in token projects' governance such as Maker, Compound, AAVE and Curve. The votes one has casted, the more $MASK one will receive. 

Any ENS address that's been linked to a Twitter account 

People who used Mask to participate in its Red Packet, NFT or ITO. 

Participants in Round 3 of Mask's ITO.
Mask said that if users don't claim their airdropped token within 24 hours, the claimable amount decreases 20% every day. 
"We are seeing not just crypto folks who want to participate in Mask's ITO but regular users of Twitter who are curious about our product and cool things they can do,." Yan told Decrypt. 
Yan said Mask hopes to use its token to teach newbies how to participate in the web3.0 economy, without leaving their comfortable web2.0 Twitter home.
Guide & Tools