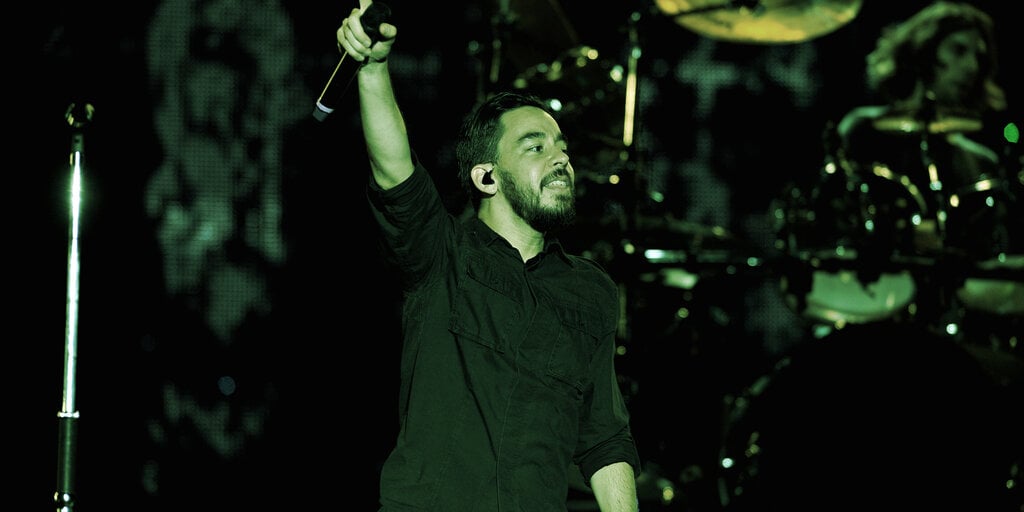 Linkin Park rapper and songwriter Mike Shinoda took to Twitter to announce his first piece of NFT art. The piece, called One Hundredth Stream, dropped on NFT auction site Zora yesterday. The highest bid as of this writing comes to 18,000 Dai. Since DAI's value is pegged to the US dollar, that's $18,000 in the non-digital world. 
The first of many
In a followup tweet, Shinoda announced that there was 'more to come,' before going on to expound on the merits of NFTs—Ethereum-based digital art—as a new method of distribution for working artists. Calling to attention the "Creators who have been commodified by platforms forever," Shinoda went on to laud NFTs as an area where "the value of your work/art/idea is defined by the market."
Much later in the day, Shinoda's gushing Twitter praise of blockchain art continued: "This should be very interesting for people who make unconventional art, or people who have been told their art isn't art at all. Maybe it is. The community will decide" he tweeted. 
If you're interested in owning 'One Hundredth Stream, Shinoda gives you till 4PM PST tomorrow before he picks the winning bid. The proceeds will go towards an ArtCentre scholarship he is funding. 
A new art movement?
Shinoda is far from the first established creative to get into producing NFTs. Rick and Morty creator Justin Roiland sold his debut NFT collection for 1,300 ETH, or around $1.65 million. 
Legendary rapper MF Doom, whose death on Halloween 2020 was announced on New Year's day this year, dropped a collection of wearables so his fans can enjoy owning one of eleven different styles of mask in augmented reality. The auctions concluded the day he died, making these masks his last announced creative endeavor. 
Shinoda is in good company, then! As the pool of NFT artists grows bigger each day, the IRL auction houses may soon be quaking. 
Guide & Tools