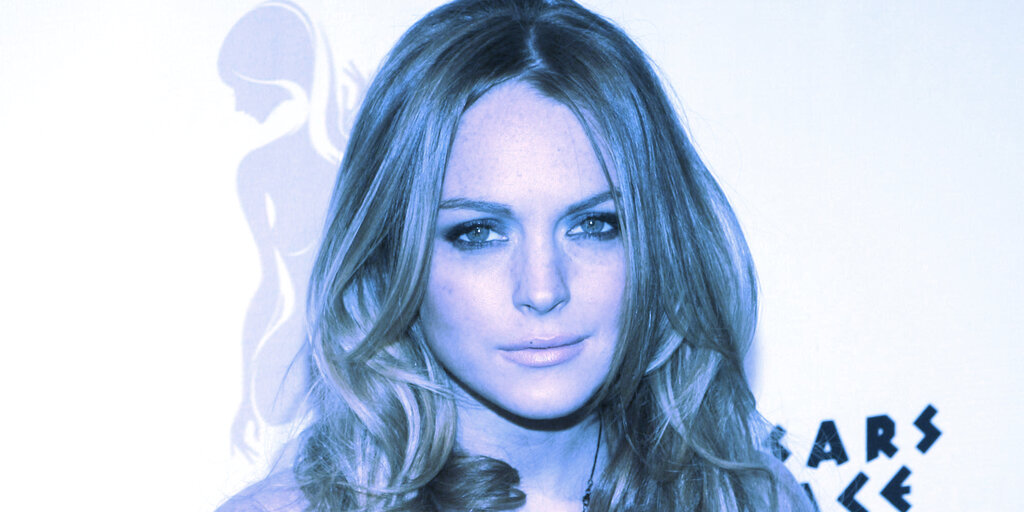 It seems everybody these days wants to sell their own non-fungible token (NFT)—even if their Ethereum-based NFT keeps referencing Bitcoin instead.
Actress and musical artist Lindsay Lohan got in on the act today, minting her own token on Rarible, a marketplace for digital assets. It was bought by "Loopify" for 10 Wrapped ETH ($17,360), only to be sold an hour later to one "Mr Lohan" for 33 ETH ($57,290). "Mr Lohan" is now trying to flip the coin. Portions of additional resales will go back to the actress, who has said she'll donate it to "charities that accept Bitcoin."
Non-fungible tokens, or NFTs for short, are unique crypto assets used primarily as digital collectibles. Popularized by CryptoKitties, NFTs have gained popularity over the last year, with crypto ambassadors such as Dallas Mavericks owner Mark Cuban and Linkin Park guitarist Mike Shinoda minting their own tokens for charity.
About six hours after tweeting "bitcoin to the moon" with an icon of a rocket, Lohan tweeted out that "Bitcoin is the future" and encouraged her 8.4 million followers to click on a link to her first NFT—artwork of (presumably) Lohan with an earring featuring the word "LIGHTNING" under the shape of a lightning bolt.
Bitcoin is the future, happening now. Support my vision of empowerment by collecting this 1 of 1 NFT from @rariblecom https://t.co/0JvU0d1tNI

— Lindsay Lohan (@lindsaylohan) February 10, 2021
The Rarible description reads: 
"I believe in a world which is financially decentralized and the power of dreams to be the core lightning network of humans. 
"Here is my first Digital Collectible from which I shall donate to charities that accept Bitcoin to empower younger generations in order for them to adapt and learn about this revolution that humanity is witnessing."
Some crypto-using social media followers commented that Rarible—and NFTs—leverage the Ethereum blockchain, not Bitcoin or the Lightning Network. Ethereum is optimized for smart contracts that make NFTs possible, whereas Bitcoin was built to be, first and foremost, a digital currency. Lightning Network, which Lohan may or may not have been referencing, is a network built atop Bitcoin that uses smart contracts to make it easier and faster to send BTC.
Look Lindsay I stan a queen but you should know that that is an ethereum-based platform, not a bitcoin-based one, so your art would sell better if it evokes ethereum.

— María Paula (@MPtherealMVP) February 10, 2021
The price of Bitcoin has risen by 20% in the last week, fueled by Tesla's purchase of $1.5 million in BTC. Even before that, Bitcoin was on a historic bull run, increasing in price from just above $4,000 in March 2020 to $44,000 today. Ethereum has been just as impressive, leaning on decentralized finance (DeFi) applications and, to a lesser extent, NFTs, to increase in price by 561% over the last year. 
Despite the explanatory comments on Twitter, Lohan might know all about the differences between Bitcoin and Ethereum already. If not, the confusion is a reminder that, as the price goes up and cryptocurrency becomes more mainstream, not everyone has been inhaling all things crypto for the last 10 years.
But the recent adopters are just in time to make digital collectibles for those who have been waiting.
Guide & Tools