Top Digital Info Product Reviews Find the best online forex guides and softwares Click Here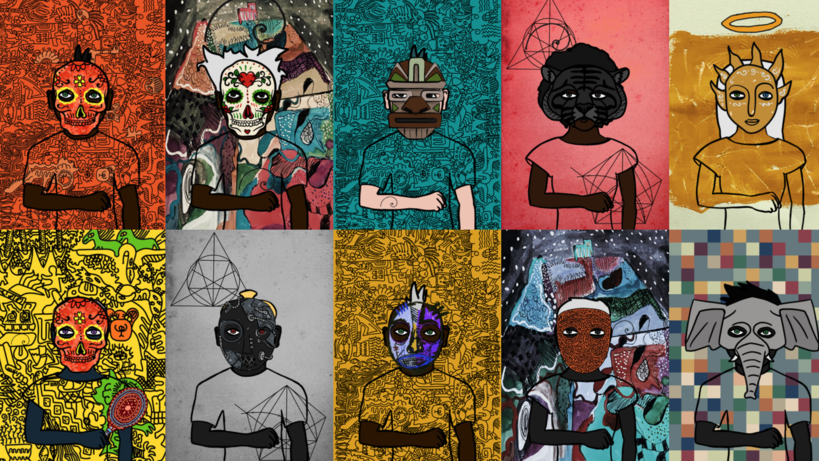 This weekend, a new Ethereum project called Hashmasks sold a collection of 16,000 pieces of art for about $9 million, making its founders suddenly and unexpectedly rich.
Ethereum art has been taking the cryptocurrency world by storm recently. Last December, over $8 million was sold in crypto art, featuring renowned crypto artist Beeple selling NFTs you can hang on your wall. The following month, Rick & Morty creator Justin Roiland decided to give it a shot, and sold some of his sketches for a total of $1.5 million. Hashmasks is the latest project riding this surging wave of attention—and money—with its first, big art sale capturing everyone's attention.
"The issue is that no-one really can predict what will win and what will fail," Gary Bracey, CEO of Terra Virtua, told Decrypt, adding, "This is what is so exciting about being involved in such a market—there are no rules or precedents and so at the start, one person's idea is as good as another." 
Mystical. Mystical. Mystical. Abstract. Mirror. pic.twitter.com/VxzOMGY7aY

— Hashmasks (@TheHashmasks) February 2, 2021
The Hashmasks collection generated about $9 million in sales just four days after their launch, becoming the number one NFT collectible on Ethereum in the process. 
On Thursday 28 January, the first batch of Hashmasks collectibles was sold for about 0.1 ETH. As days ticked by, each new batch was sold for a higher price, until eventually every Hashmasks collectible was sold by Monday February 1, including three that were sold for 100 ETH. 
The Hashmasks collection also became one of the biggest contributors behind Ethereum's NFT sector growing by more than 10 times between December and January. 
Almost all collectibles (physical or digital) follow a rarity hierarchy determined solely by the creators of the art.#Hashmasks gives the decision-making power over to the consumer of the art. The collective preferences of the consumers will shape the value of the art.

— Hashmasks (@TheHashmasks) February 2, 2021
The first of the collection—Hashmasks 1—was initially bought for 0.1 ETH ($130). But just three days later, it was flipped for a 100,000% profit, being sold for roughly 100 ETH ($130,000). 
But what are Hashmasks collectibles, and why did they take the NFT space by storm in a single week? 
Hashmasks explained
Hashmasks collectibles share a common theme of a human like figure—some more extra-terrestrial than others—but all bursting with color. They range from a tribute to William Shakespeare's Hamlet, to a Star Wars-like C3PO figure wearing a bird mask. 
But while these art collectibles share a common theme, no two are the same. 
Like any other NFT, these collectibles derive their value from their rarity, but unlike other NFTs, they are all uniquely named too. 
That is possible thanks to the Hashmasks native token, the Name Changing Token, which allows users to cryptographically tie a name to their collectible. 
"Since the image has to be stored on-chain and hashed before minting, consumers cannot add anything to the artwork itself. So we let them give it a name," the anonymous team behind Hashmasks told Decrypt, adding, "Everyone has a name, so it resonates with everyone."
The anonymous team said their involvement in Hashmasks is now over. "We are not going to interfere," they said, adding, "We look forward how people are going to use the tools we gave to assign value to the individual pieces of the whole."
The team behind Hashmasks may not want to get involved any further, but its impact on the NFT market is undeniable.
Top Digital Info Product Reviews Find the best online forex guides and softwares Click Here