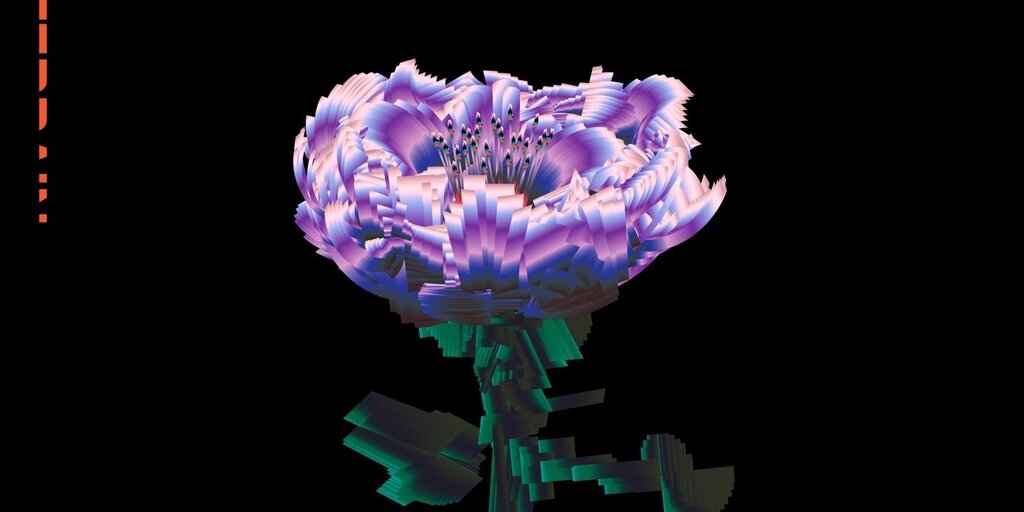 David Rudnick, a graphic designer known for high-profile collaborations with musicians such as Black Midi, Nicolas Jaar, and Oneohtrix Point Never, has sold a Valentine's Day NFT for nearly $20,000.
NFTs, or non-fungible tokens, are one-of-one collectibles on the Ethereum blockchain. Where cryptocurrencies like Bitcoin and Litecoin are fungible tokens, in the sense that each coin is interchangeable with any other, NFTs are unique assets that can be anything at all. An early example was CryptoKitties: a game based around collectible cats, each of which was an NFT.
Rudnick's NFT is a digital image called "Stem"—a glitchy rendering of a flower with an ominous subheading: "I've had this dream for a long time."
happy valentines brave new world. May we build these platforms to benefit all creators – we've had this dream for a long time https://t.co/ZMaF9IEyq7

— ཊལབསརངཧ (@David_Rudnick) February 15, 2021
An anonymous bidder paid 10.8 WETH (Wrapped Ether) for the piece on the NFT marketplace Zora, which raised $2 million in seed funding from the likes of Kindred Ventures and Coinbase Ventures late last year.
Zora sets itself apart from competitors such as SuperRare and the Winklevoss-backed NiftyGateway with its focus on creators' rights. Once a work is sold in the traditional market, artists are essentially screwed out of any future profits the piece might make on the secondary market. But if you mint an NFT on Zora, you get to keep a percentage of all future sales. In the case of Rudnick's "Stem," the creator share is 10%.
NFTs have exploded in popularity over the past year as a medium for visual art. At an auction in December, the artist Beeple made $3.5 million on a collection of 20 NFTs. And Linkin Park's Mike Shinoda dropped an NFT on Zora last week.
But Rudnick isn't under the spell of the blockchain utopians: responding to a tweet about how platforms like Zora mostly lend themselves to well-known, tech-savvy artists, Rudnick suggested the NFT space has room to grow.
"If this tech remains a marketplace," he wrote, "it will only further inequality."
Guide & Tools