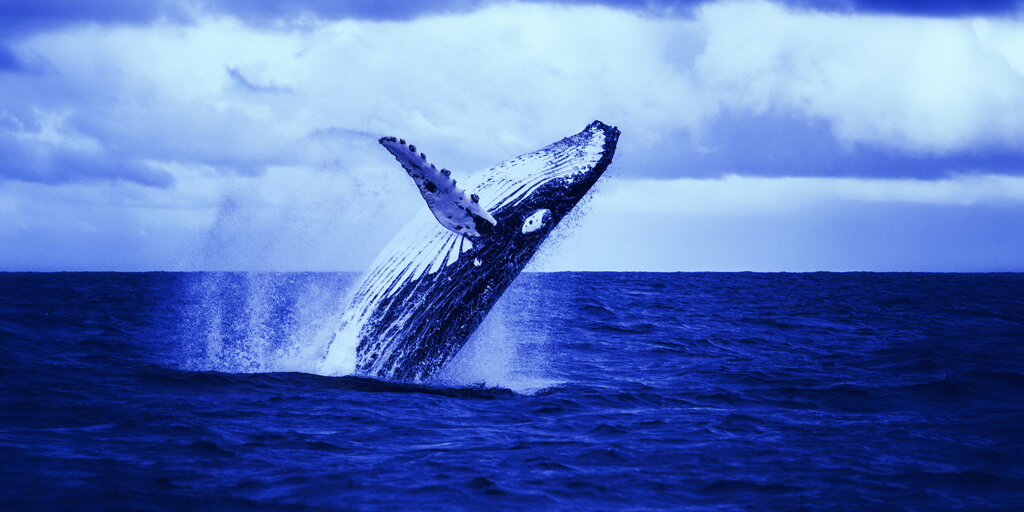 An anonymous whale just shifted over 7,000 Bitcoin—worth nearly $333 million at Bitcoin's current price—to an unknown wallet, according to blockchain tracker Whale Alert.
7,073 #BTC (337,807,244 USD) transferred from unknown wallet to unknown wallet

— Whale Alert (@whale_alert) February 27, 2021
The whale—a term used to denote owners of massive amounts of bitcoins—made the transaction at 01:53 UTC this morning from an unknown wallet to another unknown wallet. Before the transaction, the whale was the 241st largest Bitcoin wallet.
Since the identity of the whale is unknown, it's difficult to determine why they moved the Bitcoin. Speculations for whale transfers include institutions moving crypto to cold storage, huge OTC trades or internal transfers between exchange wallets. But speculations are speculations; the whale's identity remains mysterious for now.
Bearish blues
There have been other whale movements this week as bearish blues continue to hit the cryptocurrency market. Bitcoin's price went from its all-time high of $58,000 last Sunday to today's $47,000; its lowest point this week was $45,230 on February 26.
On Thursday, $400 million worth of Bitcoin (8,000) was sent from an unidentified whale—the 215th largest wallet at the time of the transfer—to a wallet that Whale Alert claimed to be linked with Coinbase, the crypto exchange giant.
8,000 #BTC (399,897,857 USD) transferred from unknown wallet to #Coinbase

— Whale Alert (@whale_alert) February 25, 2021
But according to a record on Bit Info Charts, a wallet explorer, the receiver wallet is owned by BetVIP, not Coinbase. BetVIP.com was a Bitcoin-only sportsbook licensed in the island country of Curaçao—the company went out of business in 2015, one year after its establishment, citing "restrictive legal environment" and "lack of viable revenue." Betvip.net, an operational sportsbook, is unrelated.
Revival of whale fossils
This year, several ancient Bitcoin whales have come out of a decade-long hibernation.
On February 24, a hundred Bitcoin that remained dormant since June 2010 moved for the first time, sparking much curiosity. The owners of wallets this old are often presumed to know or be in some ways associated with Satoshi Nakatomo, Bitcoin's mysterious creator.
That move was first picked by Antoine Le Calvez, the self-described "Indiana Jones of the cryptosphere" who tweeted, "no, it's probably not Satoshi."
Some old coins moved today (100 BTC from June 2010).

It's very rare to see pre-GPU era bitcoins move, it only happened dozens of times in the past few years.

And no, it's probably not Satoshi. pic.twitter.com/0jZXnmWUes

— Antoine Le Calvez (@khannib) February 24, 2021
Last weekend, ancient whales moved 5 Bitcoin. The first significant ancient whale sighting this month was on February 9 when they moved 30 BTC.
Whale movements can sometimes shake markets, as it did back this past December when Bitcoin's price surpassed $20,000. This is because those old coins, untouched for over a decade, introduce new money into the Bitcoin market. If a whale dumps those coins, then Bitcoin's price could crash.
But this time, the bearish sentiments that started at the beginning of this week continue to linger—unfazed by Bitcoin whales shaking out their dusty pockets.
The views and opinions expressed by the author are for informational purposes only and do not constitute financial, investment, or other advice.
Guide & Tools