Top Digital Info Product Reviews Find the best online forex guides and softwares Click Here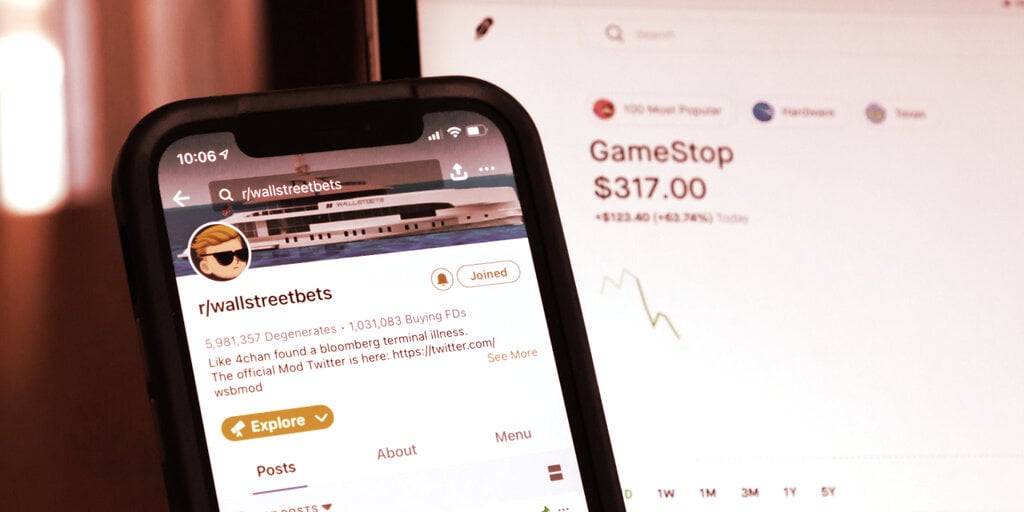 Popular online broker Robinhood infuriated users when it yesterday blocked them from purchasing stocks following the GameStop saga that has sent Wall Street into chaos. 
But another cryptocurrency exchange is hoping to come to the rescue. Seattle-based Bittrex today launched tokenized stocks for GameStop and other companies that have been booted off Robinhood. 
The listings include AMC Entertainment, Nokia, BlackBerry, Nokia Corporation, and iShares Silver Trust—all companies which are being eyed-up by internet traders who want to give the finger to Wall Street. 
The platform said it made the listings in a bid to give smaller investors a chance to get involved in trading following the GameStop saga. Popular trading firm Robinhood yesterday stopped traders from purchasing more GameStop stock but today made them available again—albeit with restrictions. 
And Bittrex isn't the only exchange capitalizing on the restrictions: FTX announced today that it was listing a WallStreetBets (WSB) index quarterly futures contract in light of Robinhood's move. And on Thursday it made GameStop's stock for tokenized futures and spot trading.
Bittrex Global CEO, Tom Albright, said: "We intend to list every stock that gets delisted from platforms like Robinhood, so that even small investors have the same opportunities afforded to multibillion-dollar financial institutions." 
"The current situation feeds into the narrative that the financial system is rigged against the little guy. We believe blockchain, decentralization, and cryptocurrencies will finally put retail investors on a more equal footing with financial institutions who have been gaming the markets for decades." 
Reddit users and amateur traders this week warred with Wall Street by buying up moribund shares from video game retailer, GameStop. The shares had previously been shorted by big hedge funds.  
This is unacceptable.

We now need to know more about @RobinhoodApp's decision to block retail investors from purchasing stock while hedge funds are freely able to trade the stock as they see fit.

As a member of the Financial Services Cmte, I'd support a hearing if necessary. https://t.co/4Qyrolgzyt

— Alexandria Ocasio-Cortez (@AOC) January 28, 2021
The price of the shares went through the roof and caused chaos on Wall Street: one hedge fund, Melvin Capital, received an almost $3 billion bailout from two other hedge funds after closing out its GameStop shorts.
Bittrex said that the tokenized versions of the stocks allow traders with no access to traditional American financial tools to trade. They can also be traded alongside the cryptocurrencies listed on the Seattle-based exchange. 
Top Digital Info Product Reviews Find the best online forex guides and softwares Click Here